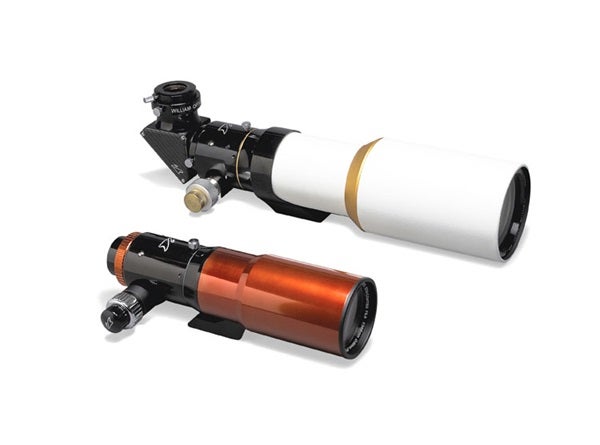 Astronomy: James Forbes
This review, "Sky-testing William Optics' new refractors," appeared in the October 2007 issue of Astronomy magazine
First impressions last. I know you shouldn't judge books by their covers, but the William Optics Megrez 90mm apochromatic refractor (APO) and the ZenithStar 66SD APO exude quality. Even the swan logo provides an extra touch of class.
The new breed of light-weight and short-focal-length telescopes is a far cry from refractors of the mid-20th century and earlier. Today's urban amateur who needs a quick "observing fix" will find this pair of scopes from William Optics just the tools for backyard browsing or traveling. These instruments are so compact, you can put them in your Mini Cooper and be off to your favorite dark site in no time.
Two gorgeous scopes
Both telescopes come in well-constructed (high-impact) aluminum and plastic cases with protective foam linings. The Megrez 90 has a white barrel with an oversized, extendable dew cap. William Optics anodized the back end of the dew cap in gold, which adds to this instrument's overall visual impact. Even the lens cap is gold-anodized. Where the tube joins the focuser, a gold ring completes the look.
To continue reading this review you need to be an Astronomy magazine subscriber.
Subscribers have full access to our equipment review archive and many other great online benefits.
Already a subscriber? Simply log in or create an account below.