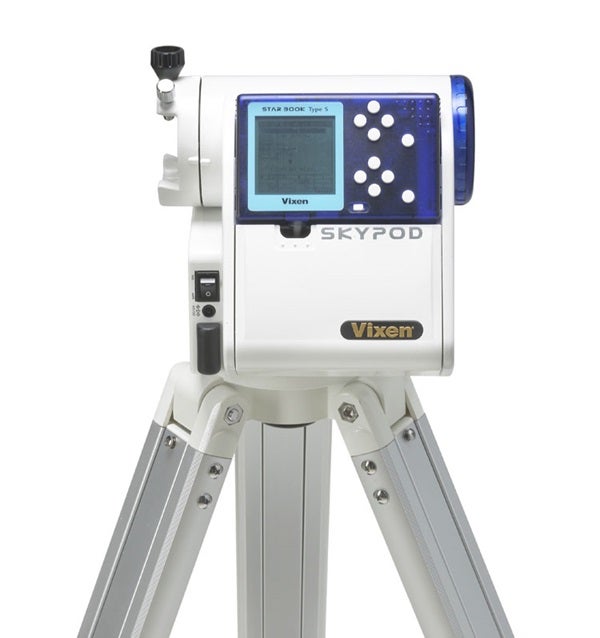 Astronomy: William Zuback
This review, "The Skypod mount performs superbly," appeared in the December 2007 issue of Astronomy magazine
Vixen Optical has come close to designing the perfect grab-and-go telescope mount — the Skypod — run by the innovative Starbook computerized control system. The Starbook debuted to rave reviews as part of Vixen's state-of-the-art Sphinx German equatorial mount a couple of years ago. More recently, Vixen
coupled a downsized version called the Starbook S to an alt-azimuth mount to create the Skypod. Once set up and initialized, the Skypod mount will aim a telescope toward any of more than 22,000 objects in the Starbook's memory and then track that object across the sky.
Two sets of five buttons work all of the functions. The Starbook control box and its 46-inch connecting cable slide neatly into the mount for storage and transport. You can also detach the Starbook from the Skypod mount and use it as a pocket planetarium. Rather than a small display with text crawling along a readout, like most go-to telescopes, the Starbook includes an LCD screen that displays the night sky for the exact day and hour the user chooses.
To continue reading this review you need to be an Astronomy magazine subscriber.
Subscribers have full access to our equipment review archive and many other great online benefits.
Already a subscriber? Simply log in or create an account below.