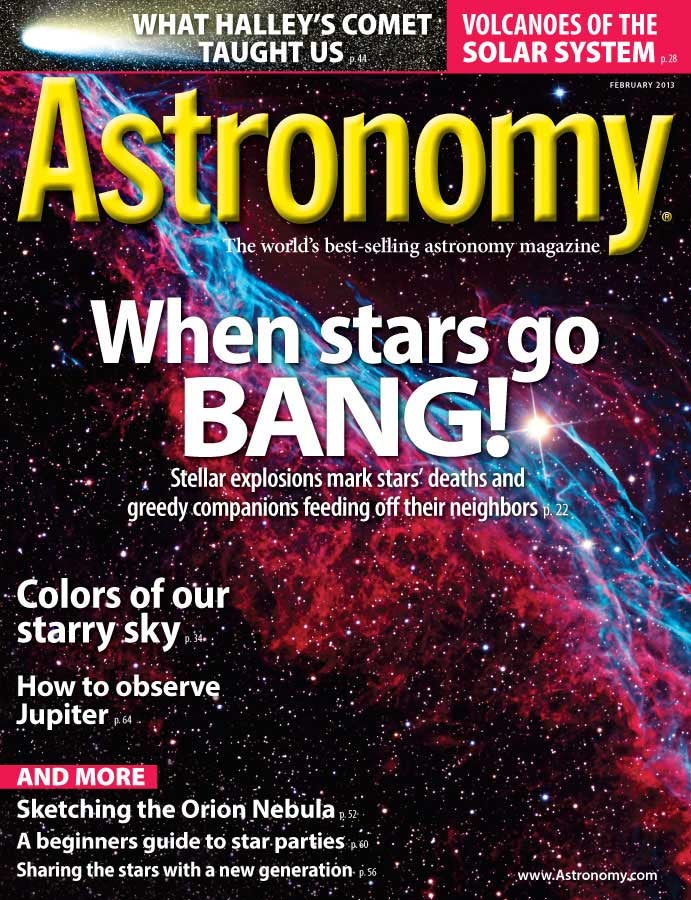 February 2013
The world's best-selling astronomy magazine offers you the most exciting, visually stunning, and timely coverage of the heavens above. Each monthly issue includes expert science reporting, vivid color photography, complete sky coverage, spot-on observing tips, informative telescope reviews, and much more! All this in an easy-to-understand, user-friendly style that's perfect for astronomers at any level.
Features
When stars go bang!
Some stellar explosions mark star death; others reveal greedy companion suns. Here's how they compare.
When stars explode, their debris create beautiful images.
Tour our fiery solar system
Hot spots, volcanoes, and geysers create a smorgasbord of volcanism from Mercury to distant moons.
From icy bodies to Sun-drenched planets, volcanic activity seethes throughout the solar system.
Colors of our starry sky
Stars radiate light like glowing coals in a campfire, their colors changing with temperature.
What Halley's Comet taught us
For more than 2,000 years, humanity has been fascinated by this famous comet. Find out why scientists, too, consider it an object worthy of scrutiny.
Use these instructions to make your own versions of these celestial visitors.
Sketching the Orion Nebula
Recording the sky's most famous nebula with pencil and paper unlocks its hidden secrets.
On a brisk winter night, M42 beckons astronomers and observers alike.
Sharing the stars with a new generation
A variety of groups are revealing the beauty of the universe to the public.
A beginners guide to star parties
With guidance from our experienced stargazer, you can join the festivities, become a better observer, and create lifelong friendships.
The United States plays host to dozens of large astronomy-community gatherings to expand your knowledge of the hobby.
How to observe Jupiter
Next to the Moon, Jupiter has the most visible features of any nighttime object. Why not point your scope at it tonight?
Departments
StarDome and Path of the Planets
In Every Issue
Snapshot
Astro News
New Products
Reader Gallery
Breakthrough
Letters
Web Talk
Final Frontier