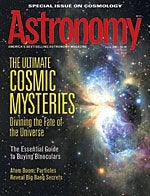 June 2001
The world's best-selling astronomy magazine offers you the most exciting, visually stunning, and timely coverage of the heavens above. Each monthly issue includes expert science reporting, vivid color photography, complete sky coverage, spot-on observing tips, informative telescope reviews, and much more! All this in an easy-to-understand, user-friendly style that's perfect for astronomers at any level.
Features
Inner Space and Outer Space
Twenty years ago, cosmologists realized that particle physics could help explain the universe's first moments. This special issue of ASTRONOMY explores just how far we've come since.
Inside-out Cosmology
Subatomic particles flitting about in a netherworld of nearly unimaginable forces have more to do with the world of galaxies and gravity than you might think.
Deep-Dish Cosmologists
In the 1980s, Michael Turner and Rocky Kolb threw wild pizza parties that offered cutting-edge cosmology along with the Italian food.
The 8 Greatest Mysteries of Cosmology
Astronomers still aren't sure how galaxies formed, what dark energy is, or how inflation occurred, but at the pace they're going, we may know within a decade.
All You Need to Know about Binoculars
Whether you're a novice or a seasoned observer, binoculars offer great views of the sky. Our complete buyer's guide will help you find the perfect pair.
Celestial Portraits: Ophiuchus
The Serpent-Bearer presents wonderful Milky Way fields and a glittering gallery of globular clusters.