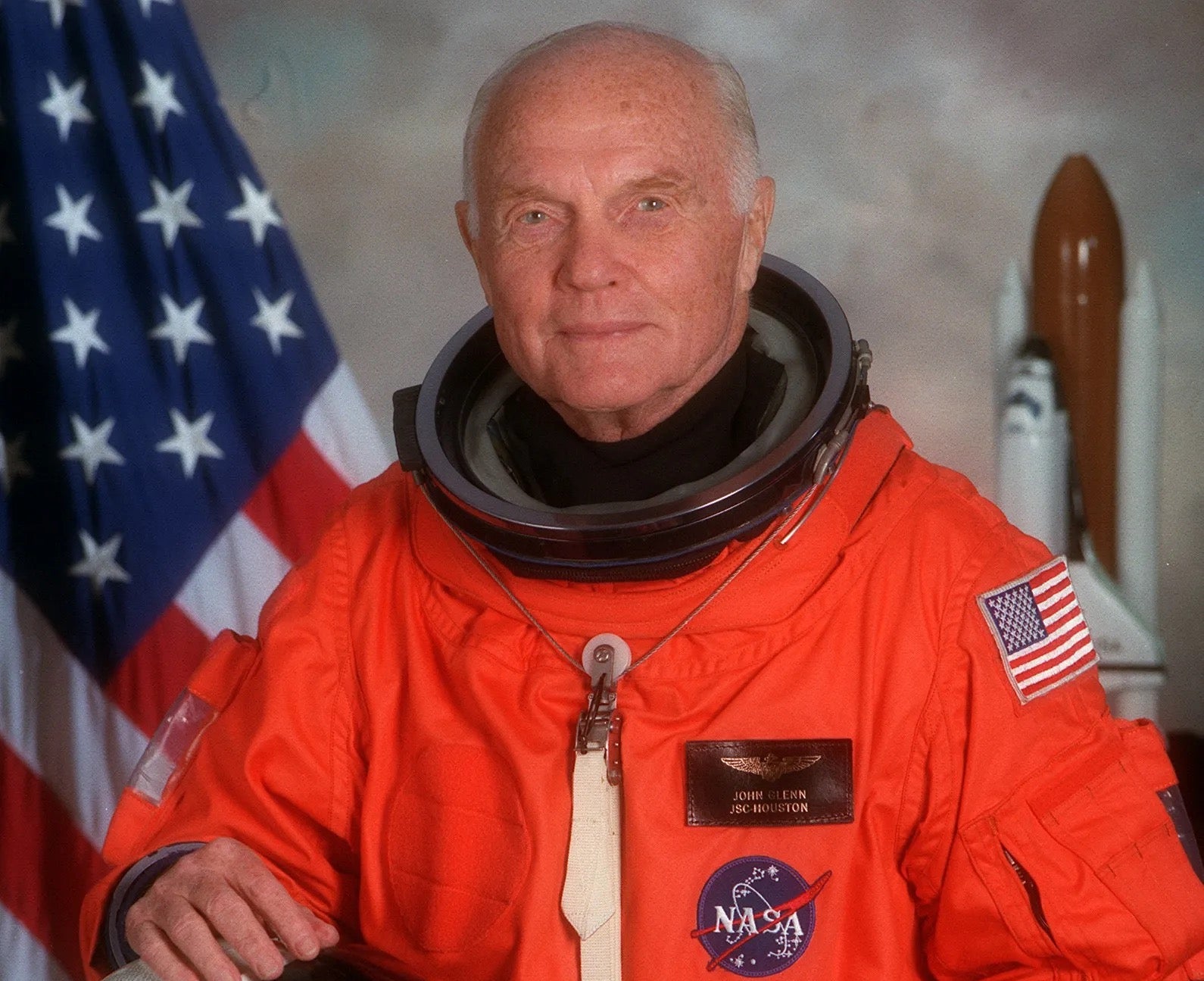 With millions of visitors each year, George Bush Intercontinental Airport, located north of downtown Houston, Texas, is among the United States' busiest aviation hubs. And in 1998, it brought together an elderly couple and an elderly astronaut, each about to embark on one more great adventure.
Thirty-six years after becoming the first American to orbit Earth, John Glenn — Marine fighter pilot, Name That Tune contestant, Ohio senator, and one-time presidential candidate — was preparing to blast off in space shuttle Discovery on Oct. 29, 1998. Aged 77 at the time, the flight was set to make Glenn the oldest human to ever orbit Earth.
"You've changed my life," said the old man at the airport.
"How's that?" asked Glenn.
"All my life, I was fascinated by Mount Kilimanjaro," the man replied. "I read about it and wanted to climb it. Then I got married, we had kids, and I kept putting it off. Then my wife told me I was too old."
The man's wife rolled her eyes, a nervous smile cleaving apart her lips.
"But if John Glenn can go back to space at age 77," the old-timer continued, "I can climb Kilimanjaro. We've got tickets to Africa next month."
Glenn, who died in 2016, was touched by this tale of a tenacious human spirit breaking society's age-biased glass ceiling.
"The excitement surrounding my return to space," he wrote in John Glenn: A Memoir (Bantum, 2000), "was due to that redefinition of what people could expect of the elderly and what the elderly could expect of themselves."
Opening act: The first American to orbit Earth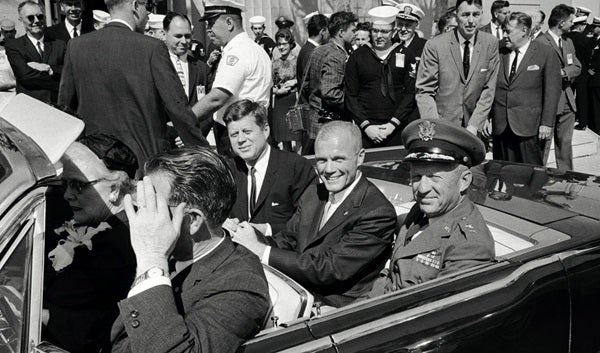 Glenn was America's oldest astronaut not once, but twice. Strapped into the tiny Friendship 7 capsule, he first circled the globe three times during a drama-filled five hours on Feb. 20, 1962. Forty years old at the time, that flight made Glenn the first quadragenarian astronaut.
The record did not last, however. Deke Slayton became the first over-50 spacefarer during the Apollo-Soyuz mission in July 1975, and Story Musgrave did likewise for over-60s on space shuttle Columbia in late 1996.
John Glenn becomes the oldest person to orbit Earth
Glenn's belated second act in this lifelong defiance of limits began in 1995. Perusing NASA medical literature, he noticed that several physiological ailments peculiar to astronauts — osteoporosis, muscle wastage, balance disorders, weakened immune systems — mirror those often seen in the elderly. He wondered if flying an older astronaut might yield insights that could benefit people on Earth. And of course, he was willing to serve as the test subject himself.
A promising meeting with then-NASA Administrator Dan Goldin, as well as Glenn's support for President Bill Clinton's 1996 re-election campaign, earned the astronaut two powerful endorsements. While on the campaign trail in Ohio, for instance, Clinton even pulled Glenn aside. "I hope that shuttle flight works out for you," the president grinned.
In addition to gaining executive support, Glenn was also required to pass a full medical exam given by John Eisold, attending physician of Congress, which found nothing to preclude the astronaut's return to space.
Elated, Glenn again asked Goldin for a shuttle seat. The administrator agreed on two conditions: The flight must be scientifically profitable, and Glenn must pass all exams required by active-duty astronauts, most of whom were half his age.
Goldin's caution was not unreasonable. NASA was roundly roasted by politicians, press, and public alike for flying congressmen, senators, and a Saudi prince on the space shuttle, as well as schoolteacher Christa McAuliffe, who died on Challenger's final, fatal flight. But by late 1997, rumor swirled that Glenn's shuttle mission was in the bag.
However, his family took longer to convince. "Over my dead body," his wife Annie snapped when she first heard the news.
A flight to remember: John Glenn and STS-95
After a whirlwind eight months of training, Discovery's STS-95 crew of five Americans (including Glenn), a Japanese surgeon, and Pedro Duque, the first Spanish astronaut, reached the launch pad on Oct 29, 1998. Five of them were only children when Glenn first flew to space aboard Friendship 7 in 1962, and Duque had not even been born yet.
All but Glenn and Duque had flown in the shuttle before, affording scope for a prank or two. For instance, Commander Curt Brown gave the shuttle veterans mock boarding passes before the flight, which they dutifully produced from their pockets. This led Glenn and Duque to exchange nervous glances. Before they could utter a word, however, wide grins creased the faces of their crewmates.
"We had bitten, hook, line, and sinker," Glenn later wrote. "Pedro and I had our initiation rite."
During the countdown, Project Mercury astronaut Scott Carpenter spoke with the STS-95 astronauts over the radio. Years earlier, Carpenter had wished Glenn bon voyage before Friendship 7. Now he reprised that role for STS-95.
"It seems appropriate," Carpenter said, "to say to the shuttle Discovery crew, good luck, have a safe flight, and to say once again: Godspeed, John Glenn."
Cheered on by 250,000 well-wishers, including President Clinton himself, Discovery severed the shackles of Earth at 2:19 p.m. ET on Oct. 29, 1998. The crew spent the next nine days in orbit carrying out a slew of research experiments, some of which were designed to compare aging with the side effects of spaceflight.
By all accounts, the STS-95 astronauts loved having Glenn aboard the shuttle with them. Scott Parazynski, for instance, compared the mission to climbing Mount Everest with Sir Edmund Hillary or playing baseball with Babe Ruth.
What did John Glenn's record-breaking flight teach us?
After the flight, critics remained unconvinced that a singular data-point (Glenn) was enough to ignite meaningful research into aging. Some queried the need for even older astronauts, while others branded STS-95 as a publicity stunt of low scientific merit that rashly endangered a U.S. national hero. Unsurprisingly, Glenn was wont to disagree.
For nine days during the flight, the crew performed 80 medical, crystal growth, cell biology, and astronomy experiments. They deployed and recaptured a solar physics satellite with Discovery's robotic arm. And they tested hardware that would be used to service the Hubble Space Telescope.
Glenn was the subject of multiple studies, his body glued with electrodes and his head adorned with a skullcap designed to monitor brainwaves, heart rate, core body temperature, and circulatory/regulatory systems. He provided 48 urine and 17 blood samples during the mission. (Because STS-95 flew over Halloween, Parazynski enjoyed donning a set of Count Dracula fangs and pouncing upon Glenn for blood-takes with "maniacal" regularity.)
Age knows no bounds
Returning home on Nov. 7, Glenn's final boundary-pushing flight was a complete triumph, ultimately proving that elderly space explorers can still make major impacts.
Between 2001 and 2023, 10 astronauts over 60 years old visited the International Space Station (ISS) – and two of them even commanded it. In spring 2024, NASA's Mike Barratt will fly to space at age 65, which will make him the oldest station crewmember to carry out a long-duration spaceflight.
In suborbital space, other records have fallen like ninepins. In July 2021, Blue Origin's New Shepard rocket blasted 82-year-old aviation pioneer Wally Funk, the first octogenarian space traveler, to the edge of space (though not orbit). Three months later, 90-year-old William Shatner, who found acting fame as Star Trek's Captain Kirk, did likewise, making him the first nonagenarian spaceman.
John Glenn's age-defying spaceflight just 25 years ago, as well as the more recent achievements by other aging astronauts, serve to remind us that age is yet another glass ceiling which can and must be shattered.