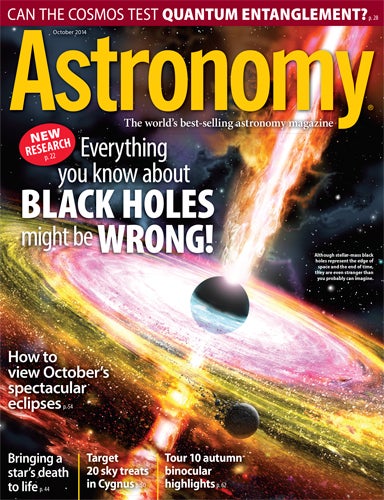 About Astronomy magazine:
Astronomy
offers you the most exciting, visually stunning, thorough, and timely coverage of the heavens above. Each monthly issue includes expert science reporting, vivid color photography, complete sky-event coverage, spot-on observing tips, informative equipment reviews, and more. All of this comes in an easy-to-understand user-friendly style that's perfect for astronomers at any level. Contact
Astronomy
, the world's best-selling astronomy magazine, at 262.796.8776 or email
editor@astronomy.com
.
WAUKESHA, Wis. – The Moon turns red. The Sun is blocked out. Black holes strip matter apart like spaghetti.

Just in time for Halloween, Astronomy breaks down some of the creepiest cosmological concepts, from Albert Einstein's hated "spooky action at a distance" to our evolving understanding of black holes. Plus, get the details on how to see both the lunar and solar eclipses that unfold in North America this month.

Astronomy columnist Bob Berman kicks off the October issue by debunking the many myths surrounding black holes. Can a black hole trap light or freeze time? What happens when you cross the event horizon? These questions have long plagued astrophysicists and puzzled the minds of the public. Berman outlines the old theories and updates the latest research.

Also this month, Andrew Friedman, a postdoctoral fellow at the Massachusetts Institute of Technology in Cambridge, Massachusetts, outlines his idea for illuminating quantum entanglement, which cuts at the core of the theory of nature at its smallest scale. After two particles interact, they can become entangled, enabling each one to know how the other acts no matter how far apart they are. Astronomers hope to use luminous galaxies called "quasars" to test this bizarre behavior.

Finally, astrophysicist Dan Milisavljevic of the Harvard-Smithsonian Center for Astrophysics in Cambridge, Massachusetts, and astronomer Robert A. Fesen from Dartmouth College in Hanover, New Hampshire, bring a star's death to life by mapping a supernova remnant in 3-D.

So pick up the October issue of Astronomy, on newsstands September 2, to dive into the weird phenomena that underpin our universe.


"How to view October's two eclipses"
Also this month, Senior Editor Richard Talcott walks readers through viewing October's two spectacular eclipses. The year's second total lunar eclipse unfolds October 8 in North America, as the Full Moon ventures deep into the Earth's shadow. Then, just two weeks later, some 80 percent of the Sun will be blocked out when the three bodies align again on October 23.

"Shoot the Moon in high resolution"
Astroimager and contributor Robert Reeves shares his photos and unveils secrets for overcoming the challenges of imaging the Moon in high definition. He shows how readers can get great lunar images too by combining modern telescopes, affordable cameras, and powerful imaging software.

October sky events visible without optical aid

Early October – Mars stands directly above its ancient rival, the red supergiant star Antares.
October 7 – The ice giant Uranus reaches opposition and peak visibility.
October 8 – The year's second total lunar eclipse is visible from North America.
October 21 – The Orionid meteor shower peaks.
October 23 – A partial solar eclipse unfolds in North America, as the New Moon passes in front of the Sun.

Also in the October 2014 Astronomy

"Target 20 treats in Cygnus" – Senior editor Michael E. Bakich discusses the observational diversity of Cygnus the Swan, which is an ideal target this month.
"Tour 10 autumn binocular highlights" – Contributor Phil Harrington explores a famous star, several open clusters, a globular cluster, and an enigmatic galaxy.
"Astronomy tests Vixen's wide-field refractor" – Top-tier astroimager Tony Hallas takes in first light with the VSD100F3.8, an imaging scope that's fast, has a flat field, and adds no color to your photo.
"The Sky this Month" – Exclusive star charts will guide you through October's night sky.
The October issue of Astronomy also includes Astro News, Ask Astro, Snapshot, Breakthrough, Bob Berman's Strange Universe, Stephen James O'Meara's Secret Sky, Glenn Chaple's Observing Basics, Adam Block's Cosmic Imaging, Erika Rix's Astro Sketching, Cosmic World, Letters, Web Talk, New Products, Reader Gallery, and Final Frontier.