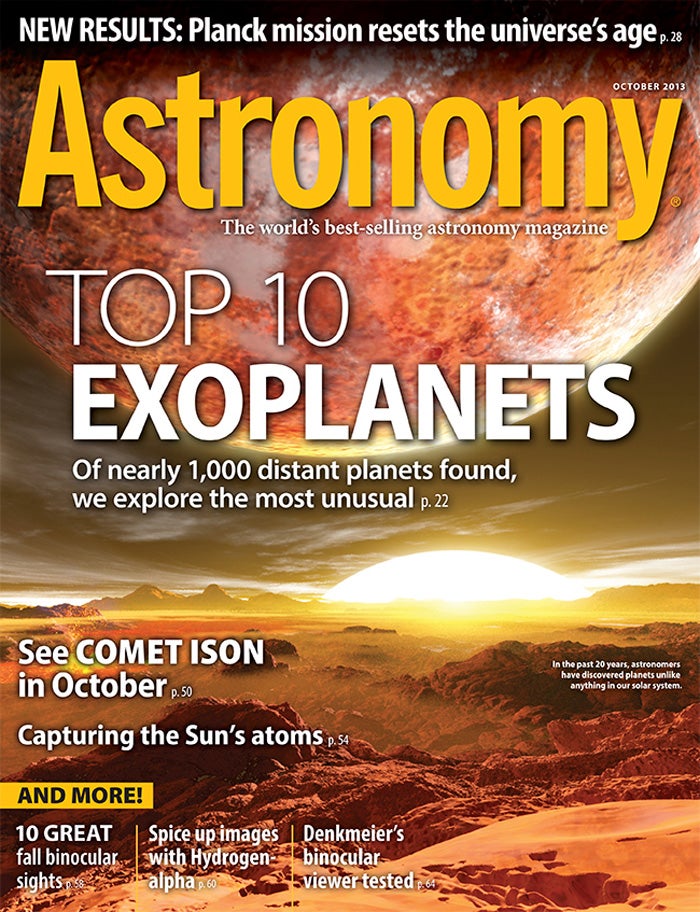 WAUKESHA, Wis. – In the 22 years since the first discovery of a planet orbiting another star, exoplanet science has skyrocketed in popularity and productivity. Scientists now know of nearly 1,000 such worlds and have thousands more candidates. The ultimate goal is to find an Earth-like planet around a Sun-like star, and astronomers are more likely to uncover such a planet than ever before. But along the way, they've made some strange discoveries.

In "Top 10 exoplanets," Richard Talcott gives a guided tour 10 of the most dramatic worlds we know of so far. From planets orbiting stellar corpses known as pulsars to a planet made of diamond and graphite, this list – complete with finder charts so you can look up and imagine – is an annotated atlas of planetary wonders.

To learn about the big, small, dense, gassy, hot, and cold planets that pepper the galaxy, pick up the
October issue of Astronomy, on newsstands September 5.

"How Planck has redefined the universe"
What is the universe made of? How did it begin? How will it end? These questions may sound almost philosophical, but the Planck telescope is able to study them scientifically. This European Space Agency instrument investigates the oldest light in the universe, and earlier this year, scientists released their first analysis of the data. The results change our conception of the universe, and in this article, Associate Editor Liz Kruesi details exactly how.

"What makes a Great Comet?"
Joseph Marcus quantifies the term "Great Comet," a famously subjective category. Illuminating the aspects of comets' compositions and orbits that make some so much brighter than others, he then uses a "comet scorecard" to determine which of the past two century's good comets were Great Comets and which were merely great.

"Comet ISON brightens before dawn"
By the end of October, Comet ISON will be as close to the Sun as Earth is. Senior Editor Richard Talcott walks you through where to look this month to watch the comet approach our star and grow brighter each day.


October sky events visible without optical aid

October 3 – Uranus reaches its 2013 peak.
October 10 – The Southern Taurid meteor shower peaks.
October 14 – Mars passes 1.0° north of Regulus.
October 16 – Venus passes 1.6° north of Antares.
October 21 – The Orionid meteor shower peaks.

Also in the October 2013
Astronomy

"Order from chaos – Genesis samples the solar wind" – This NASA spacecraft captured and returned atoms from the Sun to Earth. What happened next took "recovery" to a whole new level.
"10 great autumn binocular sights" – Before the chill of winter sets in, head outside to explore a variable star, a nearby galaxy, a stellar waterfall, and more.
"Spice up your images with Hydrogen-alpha data" – Make your images shine by adding light through this narrowband filter.
"Astronomy tests the Denkmeier's Binotron-27″ – High-quality optics and superb mechanics make this accessory.
"The Sky this Month" – Exclusive star charts will guide you through October's night sky.
The October issue of Astronomy also includes Astro News, Ask Astro, Snapshot, Breakthrough, Bob Berman's Strange Universe,
Stephen James O'Meara's Secret Sky, Glenn Chaple's Observing Basics, Tony Hallas' Cosmic Imaging, Erika Rix's Astro Sketching, Cosmic World, Letters, Web Talk, New Products, Reader Gallery, and Final Frontier.