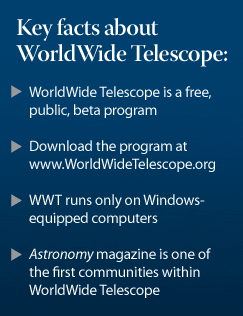 Astronomy magazine editors are available to share their unique perspective on the significance of WWT. To schedule an interview, please contact Matt Quandt at 262.798.6484 or mquandt@kalmbach.com. More WorldWide Telescope coverage from Astronomy.com

A century ago, young people grew up in lockstep with nature, mostly in rural settings with the smell of the countryside around them and the twinkle of countless stars above. Now, young Americans largely are separated from nature and science, often bound by cities or otherwise light-polluted skies that inhibit them from appreciating the universe that surrounds them. The electric excitement of youth turns not to reality, but to the artificial worlds of the Internet and video games.

The result is an American science education crisis. Job growth, economic power, technology, and world leadership in innovation all rest squarely on science and engineering. Other nations have surpassed the United States in inspiring schoolchildren to care about science, by presenting science and engineering as meaningful, exciting career choices for high school and college students.

Realizing the code-blue situation in finding capable American engineers and scientists, Microsoft has taken the lead in an innovative program designed to recapture the hearts of youngsters. Set for unveiling May 13, Microsoft's WorldWide Telescope will offer a vast array of images and data from the real world of astronomy into a spectacular interactive desktop planetarium environment, all available for free. Once downloaded and initialized, the program will give any Windows-equipped computer user the virtual ability to explore the universe almost endlessly. An amazing depth of astronomical images, tours, and objects supports WorldWide Telescope. It even offers the ability to look at the sky in multiple wavelengths, including x-rays, radio, or gamma-rays.

In short, lacking a beautiful, dark sky in the backyard, Microsoft has developed an exciting, real-world package of astronomy visuals that will dazzle even the most jaded teenager. WorldWide Telescope will bring a real view of the universe to millions who have never seen it and likely will inspire a new generation of stargazers, astronomers, and engineers. If we're lucky, Microsoft's WorldWide Telescope will even change the world.

David J. Eicher is editor of Astronomy magazine and a well-known expert on astronomy. He is the author of 16 books and a minor planet, 3617 Eicher, was named for him by the International Astronomical Union.