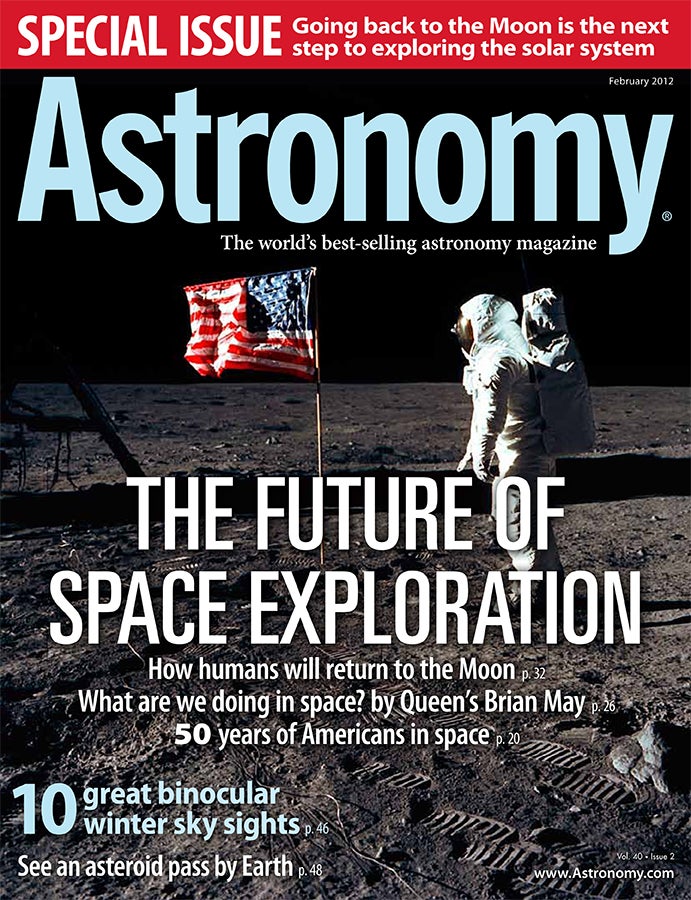 WAUKESHA, Wis. — On February 20, 1962, John Glenn became the first American to orbit Earth. Five decades have passed since that seminal flight. What have we accomplished in that time? What are our current goals for space travel? And what lies in store for the United States and its citizens' dreams for the next big moment? Astronomy celebrates Glenn's historic achievement this February with a special issue examining each of these questions.Beginning with a look to the past, Associate Editor Bill Andrews takes readers through NASA's triumphs and trials in "50 years of Americans in space." Starting with President John F. Kennedy's audacious 1961 goal of "landing a man on the Moon and returning him safely to the Earth," Andrews recounts each decade's biggest events, from the Apollo Moon landing to the shuttle tragedies to the International Space Station. It's a rich history that proves both inspiring and humbling.Having understood how we got where we are, astrophysicist, rock star, and Astronomy Editorial Advisory Board Member Brian May then asks the question, "What are we doing in space?" In addition to the literal meaning of the query, May writes, "My inquiry extends deeper, to the question of what our motives truly are, in our further exploration." Based on a talk he gave at the first STARMUS Festival in the Canary Islands, May's musings range from the optimistic to the cynical. He reminds us that, as with any significant undertaking, it's important to remember not just the great works themselves, but also the reasons behind these works.Finally, frequent contributor Robert Zimmerman follows up the question of why with the question of how in "Will we go back to the Moon?" Given the various economic and military reasons for advancing space travel, he writes, it seems almost impossible that we'd abandon that field. Just who that "we" might be, though, is up for debate. Not only have other world governments begun their own ambitious space programs, but private enterprises have made it clear they don't want to miss out on the "new New World" either.Pick up the February issue of Astronomy, on newsstands January 3, to learn more about America's place in the history of space exploration, and what its future might look like.

"10 great winter binocular sights"
Binocular observing expert and Contributing Editor Phil Harrington is back, this time with "10 great winter binocular sights." Forego the trouble and setup of a telescope furing these cold nights and set both your eyes on this collection of targets to keep you warm. Harrington provides detailed directions for each stop on the celestial tour, including one special bonus object.
"Astronomy tests two tracking mounts"
In "Astronomy tests two tracking mounts," Contributing Editor Tony Hallas reviews two popular astroimaging devices that counteract Earth's motion, allowing for longer exposures. The Takahashi Teegul Sky-Patrol II and the AstroTrac TT320X-AG each have their own personality because each approaches the problem in a different way, but both ultimately prove successful at solving it.

Also in the February 2012 Astronomy
"Spot a near-Earth asteroid" — This winter offers the best opportunity in 37 years to glimpse the asteroid 433 Eros.
"View the stars under Earth's darkest sky" — An observing site in Chile's Atacama Desert offers telescope rentals for spectacular views of southern sky wonders. 
"Haunting Prague with Kepler and Tycho" — Editor David J. Eicher traveled with Astronomy readers to see astronomical history in Germany, Austria, and the Czech Republic.
"The Sky this Month" — Exclusive pullout star charts will guide you through February's night sky.
The February issue of Astronomy also includes Astro News, Bob Berman's Strange Universe, Glenn Chaple's Observing Basics, David H. Levy's Evening Stars, Stephen James O'Meara's Secret Sky, Tony Hallas' Imaging the Cosmos, Ask Astro, Deep-sky Showcase, New Products, Reader Gallery, and The Cosmic Grid.