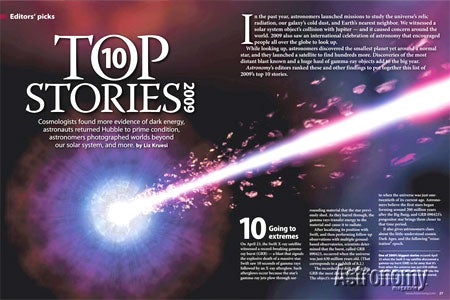 In 2009, cosmologists found more evidence of dark energy, astronauts returned the Hubble Space Telescope to prime condition, and an amateur astronomer uncovered a new scar on Jupiter that was the result of an impact. But what was the greatest story of the year?

Astronomy editors ranked the stories of 2009 and assembled this countdown of the biggest stories.

In "Top 10 stories of 2009," Astronomy magazine Associate Editor Liz Kruesi highlights the most exciting astronomy events of the year.

Astronomy's February 2010 issue arrives on newsstands January 5.

Astronomy magazine's top stories of 2009
10: The Swift X-ray satellite witnesses a record-breaking gamma-ray burst that ranks as the most distant blast seen yet.

9: Scientists close in on the sources of cosmic rays, high-energy protons and other incoming charged particles that bombard Earth from all directions.

8: The world celebrates the International Year of Astronomy.

7: Astronomers discover baby stars within the Milky Way's violent center.

Find stories 6 through 1 in the February 2010 issue of Astronomy magazine.

"How astronomers probe weather on exoplanets"
Since 1992, astronomers have confirmed the existence of more than 400 exoplanets, but studying these worlds pushed scientists to the absolute limits of modern technology. Still, researchers have gathered copious amounts of data on these distant worlds, including information about some planets' atmospheres and weather patterns. In "How astronomers probe weather on exoplanets," author Robert Zimmerman explores the birth of extrasolar meteorology and the implications this study has on finding other earthlike planets.

"10 tips for Moon watchers"
The Moon is a great starting place for newcomers to the hobby. It's visible somewhere in the sky most nights, and it doesn't take an expensive setup to enjoy it. In "10 tips for Moon watchers," Senior Editor Michael E. Bakich offers some guidance for enjoying our lunar neighbor for years to come, including the best viewing times and what you need to make the experience a success.

"How to start a meteorite collection"
Collecting meteorites can be an exciting way to "touch" the cosmos. But with a Google search yielding 2.2 million hits for "meteorites," how does one go about safely starting in this hobby? In "How to start a meteorite collection," Contributing Editor Raymond Shubinski shares his two main tenets of meteorite collection and introduces readers to some of the dealers he trusts.

Also in the February 2010 Astronomy

"Illustrated: Explore our neighborhood of galaxies" — Some 50 galaxies crowd around the Milky Way. Astronomers call them the Local Group.
"Dancing with the galaxies" — Target these dozen galaxies with a modest-sized telescope, and you'll find that the Whirlpool is just one shining example of close galaxy pairs.
Review: "Explore Scientific's 5-inch APO combines portability and power" — High-quality optics and craftsmanship make this a telescope you'll be proud to own.
"The Sky This Month" — Exclusive pullout star charts will guide you through February's night sky.
The February issue of Astronomy also includes Astro News, Beautiful Universe, Bob Berman's Strange Universe, Glenn Chaple's Observing Basics, David Levy's Evening Stars, Stephen James O'Meara's Secret Sky, Ask Astro, Telescope Insider, The Cosmic Grid, Deep-sky Showcase, New Products, and Reader Gallery.
Editor David J. Eicher gives a video tour of the February 2010 issue