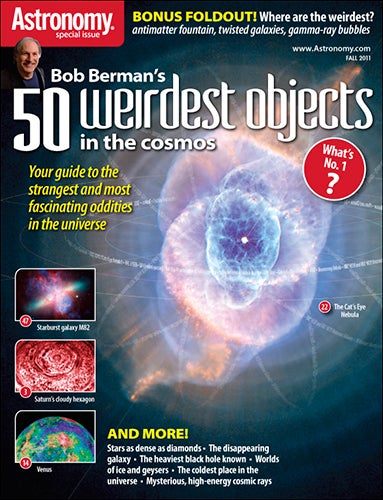 Waukesha, WI — Astronomy magazine's latest special issue, 50 Weirdest Objects in the Cosmos, went on sale October 18. Written by longtime columnist Bob Berman, author of "Strange Universe" each month, this 108-page magazine explores more than four-dozen weird and wild places in the universe around us.

Presented in a Letterman-style countdown from least- to most-weird, readers will discover the coldest place in the universe, where the temperature is actually 2° colder than the rest of space itself; a planet in our solar system that rotates so slowly, you could walk along its equator faster than it spins; and a distant quasar whose light is split into four identical copies, which form a nearly perfect cross. These objects and dozens more are surrounded by incredible images, and each is presented with the easy-to-read expertise and dry wit that make Bob Berman Astronomy magazine's most-popular columnist month after month.

This special issue also features two foldouts in its center. One plots the location of the 16 weirdest objects in our solar system; the other plots the location of the rest in the Milky Way and the cosmos.

Said Berman about assembling this list of celestial oddities: "The 'weirdest' things in the universe are automatically the most fascinating and the objects that have the most to teach us. In assembling this amazing collection, the final 'top five strangest' were particularly mind-blowing. Astronomy's editors and I had no trouble choosing 'number one' — even if it's something that nobody has ever seen!"50 Weirdest Objects in the Cosmos is available at Barnes & Noble, Books•A•Million, and many other bookstores and newsstands around the world, as well as Walmart, Target, and most major supermarket chains in the U.S. and Canada. For more information or to order directly from Kalmbach Publishing Co., call 800-533-6644 or visit www.Astronomy.com/50Weirdest.