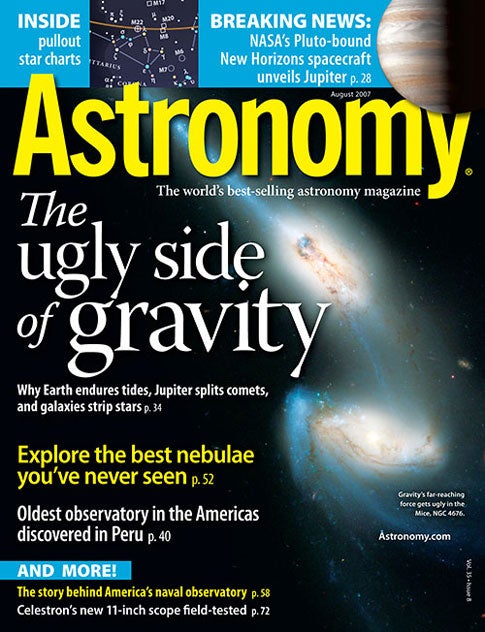 Astronomy's mission:
Astronomy promotes the science and hobby of astronomy through high-quality publications that engage, inform, entertain, and inspire. July 9, 2007
WAUKESHA, WI – The next time it feels as though the forces of life are about to pull you apart, remember that, compared to many objects in the universe, you really have it together.

Humans are bound at the molecular level – but for many objects in the universe, gravity is the only force holding them together. And, in some cases, gravity is the force that tears them apart.

In "The ugly side of gravity," C. Renée James – an associate professor of physics at Sam Houston State University in Huntsville, Texas – explores gravity's destructive nature.

The August 2007 Astronomy cover story points to Earth's ocean tides, Jupiter's comet-splitting power, and galaxies that strip stars away from their neighbors to illustrate gravity's sinister side. More resources from Astronomy.com:

The August issue of
Astronomy
is available now on newsstands everywhere.
Buried treasure
When archaeologists uncovered a 4,200-year-old building in Peru, astronomy was not on their agenda – until they found a series of markers that may have been used as an agricultural calendar. Anthropologist and team leader
Robert Benfer
called on astronomy professor
Larry Adkins
to decipher the find. The two recount their discoveries at the Temple of the Fox in "The Americas' oldest observatory."
Journey past Jupiter
From January to June, NASA's
New Horizons
spacecraft – on a fast track to Pluto – probed giant storms, erupting volcanoes, ring clumps, and ionized particles as it flew past Jupiter. S. Alan Stern, the principal investigator of the mission, details New Horizons' journey in "Jupiter up close and personal." The flyby captured images of Jupiter's four Galilean moons, the planet's stormy atmosphere, and much more.
Spotting Sharpless objects
Astronomy
Senior Editor
Michael E. Bakich
helps readers "Take the Sharpless Catalog challenge" in the August 2007 issue. This list of glowing hydrogen clouds provides rewarding targets for eye and camera alike. Although most Sharpless targets lie beyond the visual range for many amateur telescopes, charge-coupled device (CCD) technology makes the catalog "user-friendly."
Also in the August 2007 Astronomy:
"Lighthouse of the skies" – The U.S. Naval Observatory has blazed a path between sea and sky since its birth in the mid-19th century.
"Spreading astronomy around the world" – The 118-year-old Astronomical Society of the Pacific is on a mission.
"Astronomy tests Celestron's CPC 1100 GPS" – This 11-inch powerhouse puts thousands of celestial targets within your view.
The August 2007 Astronomy also includes Ask Astro, Astro news, Bob Berman's strange universe, Glenn Chaple's observing basics, Phil Harrington's binocular universe, Stephen James O'Meara's secret sky, The sky this month, New products, and Reader gallery.