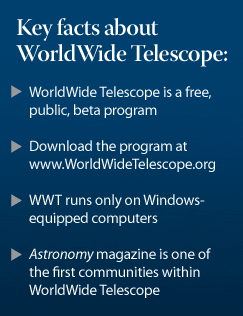 More WorldWide Telescope coverage from Astronomy.com

WAUKESHA, Wis. — From the comfort of their desks and living rooms, people everywhere can now take guided tours of the universe created by Astronomy magazine on Microsoft's WorldWide Telescope (WWT).

Astronomy magazine editors are available to share their unique perspective on the significance of WWT. To schedule an interview, please contact Matt Quandt at 262.798.6484 or mquandt@kalmbach.com.

Launched May 13, WorldWide Telescope — www.WorldWideTelescope.org — is a rich web application that brings together imagery from the world's best ground- and space-based observatories.

This unique, free, public beta program lets you soar through the cosmos at the click of a button. WWT lets users pan left, right, up, down, back, and forward seamlessly. Users can control their own experience, or they can take a guided tour that highlights specific objects in space. Communities and content partners like Astronomy magazine create and post interactive tours within WWT to educate and entertain.

Microsoft has invited Astronomy to be one of WWT's first communities.

"Astronomy magazine has a rich tradition of making astronomy easy to understand," said Curtis Wong, manager of Microsoft's Next Media Research Group. "Astronomy magazine editors have a wonderful ability to weave the stunning visuals of space and complex data from research into compelling stories for a broad audience. This talent to inspire and inform makes Astronomy a tremendous asset to the WorldWide Telescope community."

Astronomy editors created four interactive tours — complete with graphics, music, narration, and text — in anticipation of WWT's May 13 launch.

"With WorldWide Telescope," said David J. Eicher, editor of Astronomy, "cloudy nights, light pollution, and freezing temperatures fall away to an anytime view of the universe in the best personal planetarium ever made."

WWT goes well beyond simple browsing of images. Users can choose which telescopes they want to look through, including Hubble, Chandra, Spitzer and others. They can view the locations of planets in the night sky — past, present or future. They can see the universe through different wavelengths of light to reveal hidden structures in other parts of the galaxy. As a whole, the application provides a top-to-bottom view of the science of astronomy.