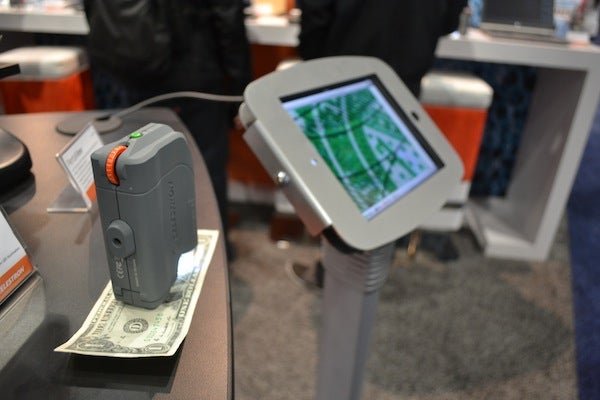 For Team Celestron, the ball dropping at Times Square is our cue to head to Las Vegas for the International Consumer Electronics Show (CES). This year, we had more than 20 new products to unveil and lots of exciting news to announce!

CES can be hectic, with over 100,000 show attendees mobbing the floor. But this year, we were prepared with our very own observation deck! The second-story deck towered over nearby booths and offered the perfect vantage point for customers to give our telescopes, spotting scopes, and binoculars a test drive.
Wi-Fi Innovations
With Wi-Fi technology becoming increasingly ubiquitous, our engineers have been dreaming up ways to bring smartphones, tablets, and optics together. We did it this year with two new products featuring integrated Wi-Fi.

The COSMOS 90GT WiFi Telescope is the world's first telescope that you can control wirelessly using your smartphone or tablet. The COSMOS Celestron Navigator app for Apple and Android devices makes slewing your telescope and identifying celestial objects as easy as a simple tap. This groundbreaking new telescope attracted attention from media outlets including Tech Podcast News, CES Live, Get Connected Canada, the Virgin Atlantic blog, and DPReview.com. We were thrilled when a team from Popular Science presented the telescope with their "Product of the Future" award!

Show attendees and press also flocked to Micro Fi, our new digital microscope that streams a live feed of specimen images straight to your smart device! Micro Fi can connect to up to three phones or tablets at once. At our hands-on microscope area, we demonstrated Micro Fi's seamless connection to an Apple iPad and a Samsung Galaxy Tab. Reporter Brittney Gallagher of KPFK's Digital Culture LA loved the Micro Fi and reported that her "favorite product" of CES 2014 was the COSMOS 90GT WiFi Telescope! Superior Optics for Day or Night
The other star product of CES was our new Echelon series of large-aperture binoculars. Available in 10×70, 16×70, and 20×70 models, Echelon offers our highest optical quality, including premium Japanese optical components and the same XLT coatings we use on our top telescopes. Best of all, these binoculars are assembled in the USA. They're ideal for long-range glassing in low-light situations and, of course, stargazing.

This year, we also welcomed three new models to our Nature DX binocular line, which we released at last year's CES. An 8×56, 10×56, and 12×56 are joining this popular and budget-friendly family. Finally, we've expanded on our Regal M2 spotting scope line with two new eyepieces and eyepiece-spotting scope bundle.

With so many new large-aperture binoculars and spotting scopes, we knew we needed to provide a solid foundation to go with them. That's why Celestron engineers developed the TrailSeeker Tripod, a sturdy and durable platform for photography and observation. Up on the observation deck, the TrailSeeker anchored our Regal M2, SkyMaster binoculars, and many more sport optics.

What's Next for Celestron?
Although CES is wrapped up, 2014 still holds lots of excitement for Celestron. Our brand new website will be launching soon. We're also gearing up for the premiere of Cosmos: A SpaceTime Oddessy on March 9 on FOX.

And if you're already curious what our engineers have planned for the next product launch – stay tuned! We'll have even more exciting announcements at this year's Northeast Astronomy Forum & Telescope Show in April.