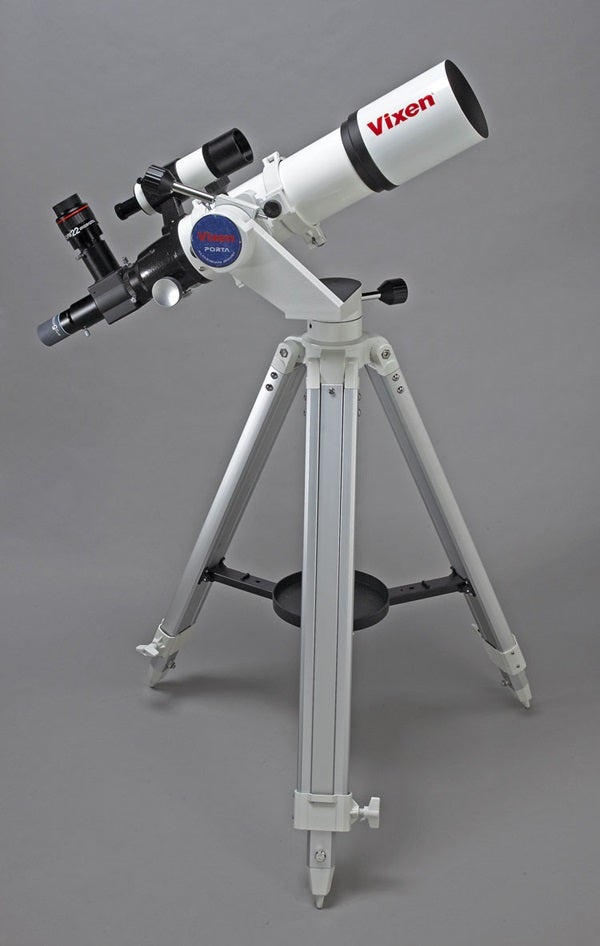 Astronomy: William Zuback
This review, "Vixen's go-anywhere scope," appeared in the June 2006 issue of Astronomy magazine
Amateur astronomers have numerous telescope options, from simple designs to exotic optical configurations. Refractors, in particular, have gone through many incarnations. Recently, a number of different glass types and coatings have challenged the two-lens combination that makes up the primary objective of a standard achromatic refractor. Enter the Vixen ED80Sf, a serious contender in the apochromatic refractor (APO) market. Vixen has established itself as one of the major competitors in this area. The ED80Sf is a 3.1-inch (80 millimeters) f/7.5 telescope with a 600mm focal length. At f/7.5, the ED80Sf falls into the medium focal-length range.
From unpacking to setup
The ED80Sf package includes a 9×50 finder scope, a 2″ eyepiece adapter, a Crayford focuser with tension/lock adjustment, a flip mirror assembly with T-threads and dual 1.25″ eyepiece adapters, 100mm tube-mounting rings, and the standard Vixen dovetail mounting plate, which pairs with the optional Porta Mount's dovetail. A lightweight — but sturdy — aluminum tripod is optional.
To continue reading this review you need to be an Astronomy magazine subscriber.
Subscribers have full access to our equipment review archive and many other great online benefits.
Already a subscriber? Simply log in or create an account below.