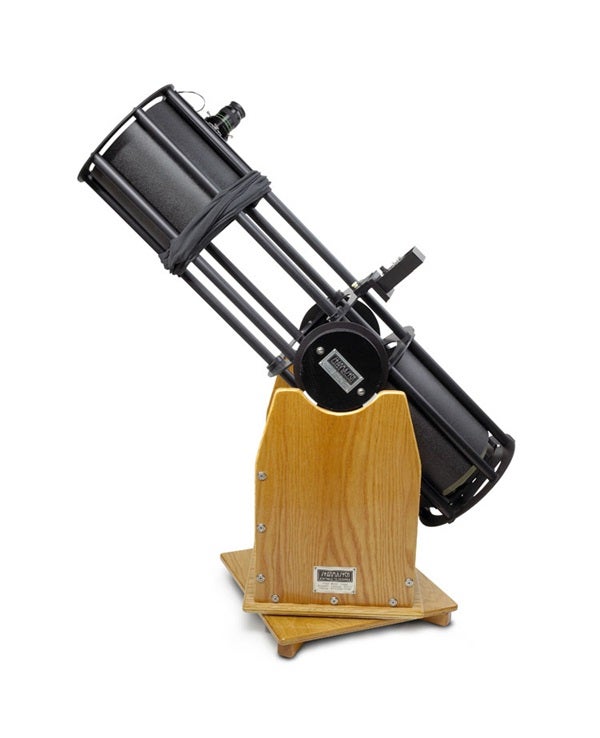 Astronomy: William Zuback
This review, "Two scopes in one," appeared in the April 2006 issue of Astronomy magazine
A new line of Newtonian reflectors from Starmaster Portable Telescopes — the Versa series — aims at amateur astronomers who want fast setup for visual observing and also imaging capabilities.
When you just want a quick look at the sky, the Versa-8 is ready to go as fast as you can set the Dobsonian base down and place the tube assembly into it. When you want to track or photograph objects, it takes only 5 minutes to add the ring assembly that allows the tube to ride on any German equatorial mount.
The Versa telescope line is available in both 8- and 11-inch models.
The 8-inch Versa, which I tested, is surprisingly light. The tube assembly weighs less than 35 pounds (16 kg) with everything — including the counterweight — attached. The tube measures just under 48 inches (122 cm), so it can rest easily in the backseat of most cars and trucks. With the scope set up as a Dobsonian-mounted reflector, you can observe the stars less than 2 minutes after arriving at your site.
To continue reading this review you need to be an Astronomy magazine subscriber.
Subscribers have full access to our equipment review archive and many other great online benefits.
Already a subscriber? Simply log in or create an account below.