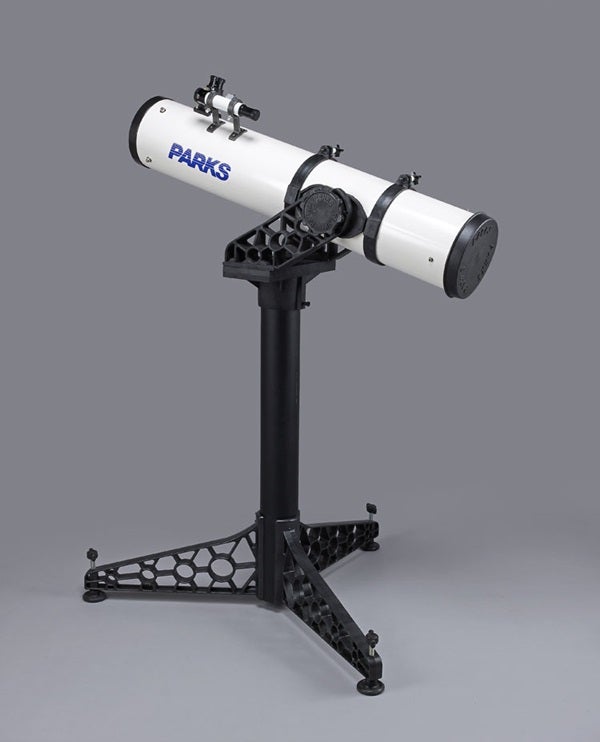 Astronomy: William Zuback
This review, "Astrolight reflectors offer quality optics," appeared in the November 2007 issue of Astronomy magazine
The Astrolight AZ6 and AZ8 Newtonian reflectors from Parks Optical combine quality optics with a simple mount at a price that won't break the bank. What more could a cost-conscious amateur astronomer ask for in a scope?
The 6-inch f/6 AZ6 and 8-inch f/6 AZ8 both feature the company's trademark glossy white tube assembly and American-made Pyrex mirrors. But instead of massive equatorial mounts, each rides on a basic alt-azimuth mount on top of a pier. Like a Dobsonian mount, the Astrolight mount moves left and right in azimuth, and up and down in altitude. This makes the scope simple for novice stargazers to use almost right out of the box.
Both Astrolight scopes address the complaint that most small Dobsonian-mounted reflectors are too low to the ground. When aimed vertically, the AZ6's eyepiece stands 58 inches (1.5 meters) high, while the AZ8's is 67 inches (1.7m). When aimed horizontally, the eyepieces are 43 inches (1m) off the ground. I like to observe standing up, so I appreciate this convenience.
To continue reading this review you need to be an Astronomy magazine subscriber.
Subscribers have full access to our equipment review archive and many other great online benefits.
Already a subscriber? Simply log in or create an account below.