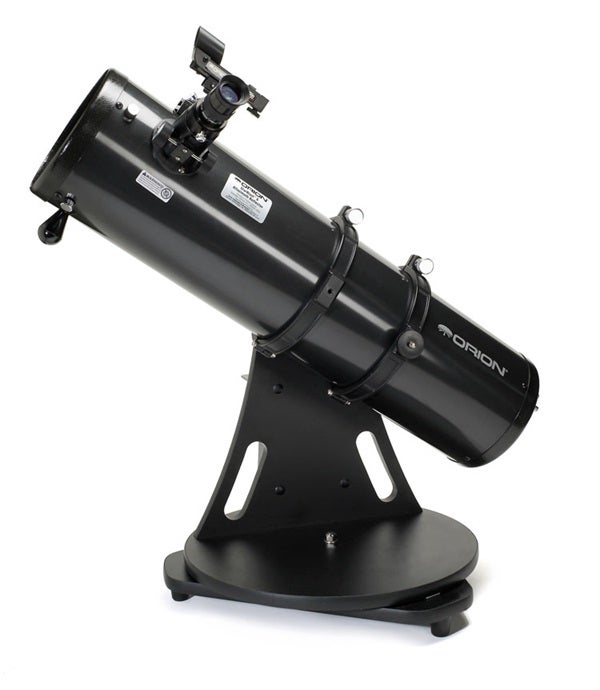 Astronomy: William Zuback
This review, "Orion's StarBlast 6 makes a great first scope," appeared in the January 2009 issue of Astronomy magazine
In 2003, California-based Orion Telescopes and Binoculars introduced the StarBlast, a 4.5-inch Newtonian reflector designed mainly for kids. The StarBlast caught on with adults as well, from novices looking for a user friendly first scope to veterans wanting something portable. (See "Orion's StarBlast" in the January 2004 issue of Astronomy.) The "Little Scope That Could" proved to be such a success that Orion decided to give it a big brother. Enter the new StarBlast 6.
In creating this telescope, Orion didn't have to invest a lot in development. The company took the tube assembly from its Astroview 6, a 5.9-inch (150 millimeters) f/5 rich-field reflector, and placed it on a scaled-up version of the original StarBlast mount. Orion replaced the Astroview's 6×30 optical finder with a less costly red dot reflex sight and added a navigation knob to the tube's front. Too bad Orion didn't go with the eye-pleasing teal color found on the original StarBlast tube. That would allow for a family to have a matching pair of parent and child StarBlasts.
To continue reading this review you need to be an Astronomy magazine subscriber.
Subscribers have full access to our equipment review archive and many other great online benefits.
Already a subscriber? Simply log in or create an account below.