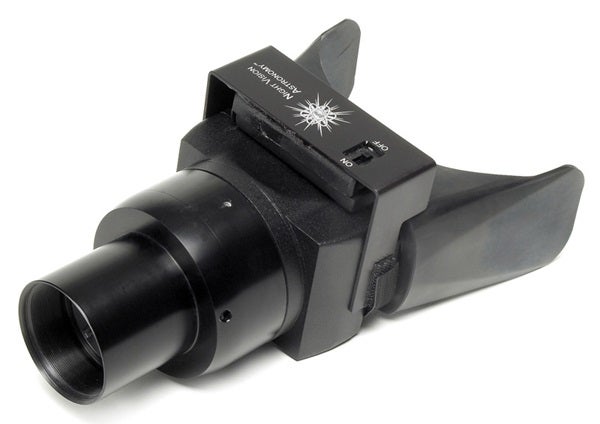 Astronomy: William Zuback
This review, "Amplify your view of the night sky," appeared in the June 2010 issue of Astronomy magazine
I've long wanted to own an extremely large telescope, but the size, weight, and expense have put me off. Something that's intrigued me, though, is the capability provided by using a light amplification device as sort of an aperture multiplier.
Night Vision Astronomy from Pound Ridge, New York, now offers an instrument that uses such technology. The Binocular Photon Machine (BIPH) is a third-generation light-amplification unit the company has modified for astronomical use. It's available in two flavors: one featuring a brand new night vision tube and a 2-year warranty for $3,995, or a model like I tested with a clean used tube and a 1-year warranty for $3,299.
First impressions and specs
Stored in its included hard-shell case, the BIPH is a rather unimposing piece of equipment. It's small and lightweight, about the size of a binoviewer with eyepieces, which makes it an easily portable device. Two AAA batteries power the BIPH and provide approximately 40 hours of operational time.
To continue reading this review you need to be an Astronomy magazine subscriber.
Subscribers have full access to our equipment review archive and many other great online benefits.
Already a subscriber? Simply log in or create an account below.