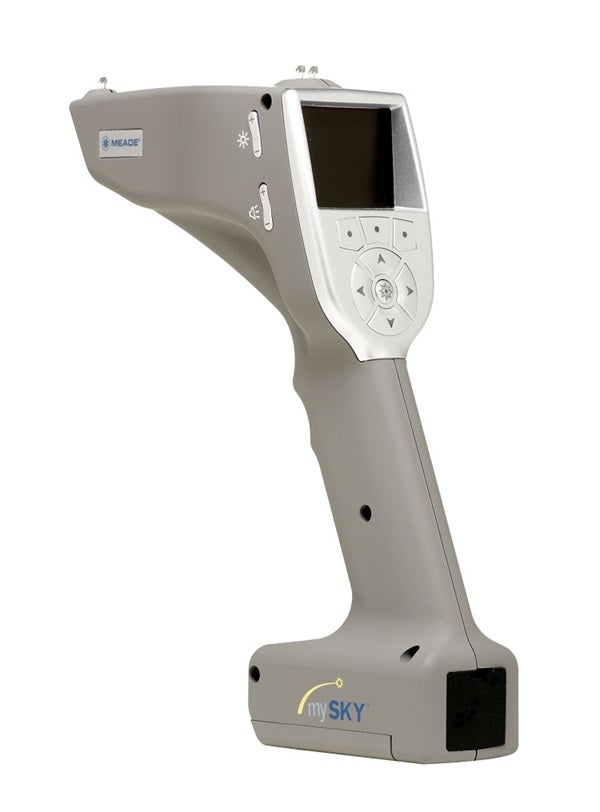 Astronomy: William Zuback
This review, "Meade's mySKY teaches you the stars," appeared in the February 2008 issue of Astronomy magazine
Meade Instruments Corp. offers a simple solution for novice stargazers to find and identify celestial objects: mySKY. This handheld device will answer questions like, "What's that bright star?" "Where is the Andromeda Galaxy?" and thousands of other queries.
For most observers, it takes time to learn the night sky. Some use star atlases; others learn the star-hopping technique; a minority rely on their telescopes' setting circles, navigating by celestial coordinates. Some beginners find these challenges enjoyable. Others would rather simply observe, learning the celestial road map as they go along.
When Celestron introduced SkyScout, its handheld point-and-identify unit, in late 2006, amateur astronomers wondered how long it would take Meade Instruments to follow suit with a similar product. The company answered that question with mySKY, an interactive handheld night-sky guide. Like the SkyScout, mySKY's GPS technology pinpoints celestial objects with ease. mySKY provides integral video and audio descriptions of objects, as well as direct control of Meade computerized telescopes (this requires an optional cable).
To continue reading this review you need to be an Astronomy magazine subscriber.
Subscribers have full access to our equipment review archive and many other great online benefits.
Already a subscriber? Simply log in or create an account below.