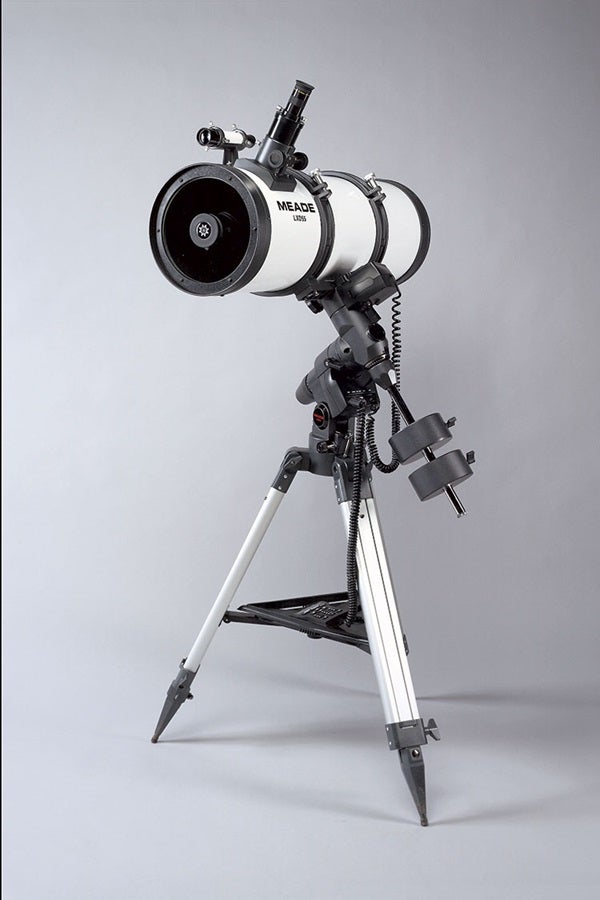 Astronomy: William Zuback
This review appeared in the August 2003 issue of Astronomy magazine
On a dark night, an observer seeing a Meade LXD-55 Schmidt-Newtonian for the first time could be forgiven for thinking he had been transported in time back to the 1960s. Forty years ago, the most common commercial telescope was probably the 6-inch f/8 Newtonian on a clock-driven (110 Volts AC), pier-supported equatorial mount. Larger sizes were much less common.
Today, Meade offers a range of telescopes, updated mechanically and optically, for observers in the 2000s. With the LXD-55, the classic lines are all there, but our observer wouldn't take long to realize this instrument is clearly a telescope of the 21st century. The new LXD-55 line boasts 6-inch, 8-inch, and 10-inch models. Astronomy received the 8-inch SN-8 to test for this review. Click here to download and read a PDF of the entire Meade LXD-55 Schmidt Newtonian review.
To continue reading this review you need to be an Astronomy magazine subscriber.
Subscribers have full access to our equipment review archive and many other great online benefits.
Already a subscriber? Simply log in or create an account below.