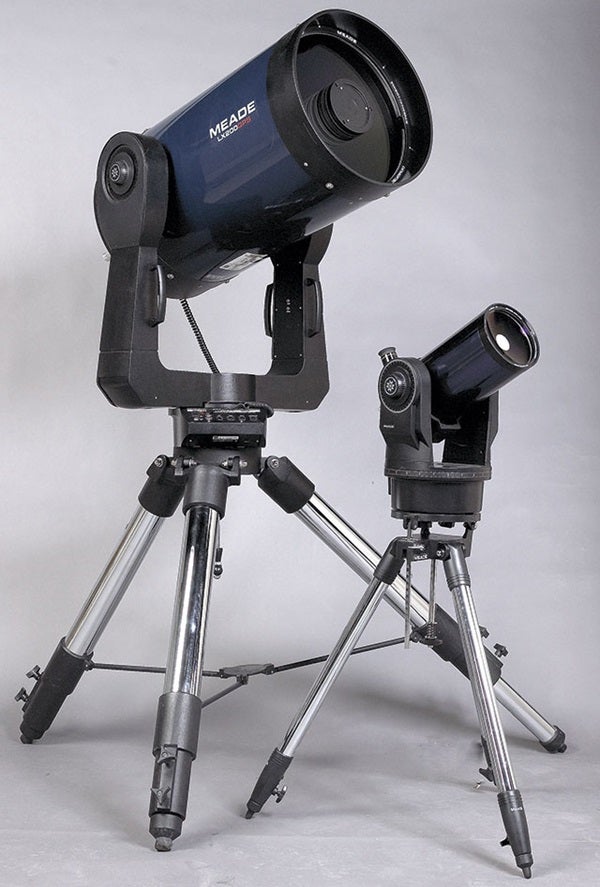 Astronomy: James Forbes
This review, "Meade's new 14-inch SCT: an instant classic," appeared in the March 2005 issue of Astronomy magazine.
Twenty-four years ago, Meade entered the Schmidt-Cassegrain telescope market with its Model 2080 8-inch SCT. This marked the start of not only the tremendous growth of Meade but also of the amateur telescope market. Today, Meade offers the LX200GPS-SMT line of fully automated go-to and Global Positioning System (GPS)-equipped telescopes with apertures from 7 to 16 inches. And the LX200GPS-SMT14, with its high-quality optics, mechanical excellence, accurate computer control, and large aperture, has arrived to make a statement.
Think big
The 14-inch LX200GPS-SMT is an f/10 system with a focal length of 3,556 millimeters. The optical-tube assembly is mounted on a heavy-duty, twin-fork mount directed by the AutoStar II hand controller. AutoStar II sports a database of 145,000 objects, a 200-object user-defined library, and a terrestrial landmark library.
The menu features event items such as the times of sunrise, sunset, moonrise, and moonset. You also can find dates of Moon phases, meteor showers, equinoxes, and solstices.
To continue reading this review you need to be an Astronomy magazine subscriber.
Subscribers have full access to our equipment review archive and many other great online benefits.
Already a subscriber? Simply log in or create an account below.