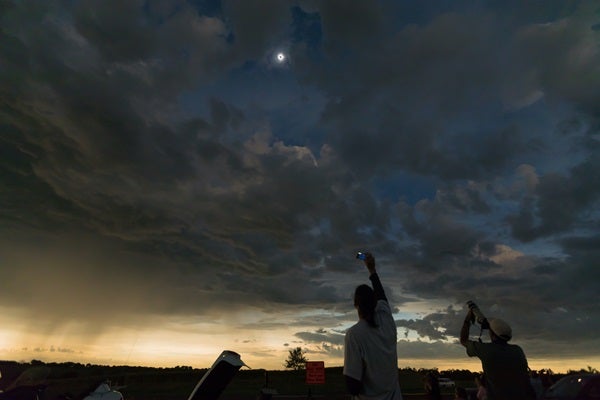 Millions of people throughout the U.S. experienced the much-anticipated total solar eclipse of Aug. 21, 2017, the first to cross the country since 1979. And, if you saw the 2017 eclipse, you're no doubt already planning to head to the path of totality when the Moon's shadow again crosses the contiguous 48 states on April 8, 2024.
If you skipped the last one, keep in mind that there won't be another cross-country eclipse for two decades — don't miss out this time!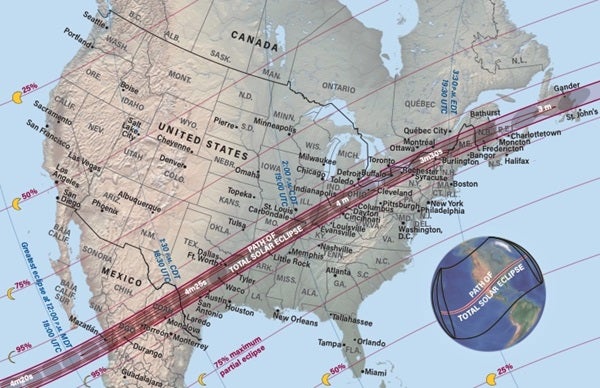 The nitty-gritty of the 2024 solar eclipse
Every eclipse has a different length of totality. This is caused by the nature of the cosmos as Earth and the Moon orbit not in perfect circles, but ellipses — so Earth is not always the same distance from the Sun and the Moon is not always the same distance from Earth. The result is that the longest possible duration of totality is 7 minutes 32 seconds.
The eclipse on April 8, 2024, won't come close to that. But any period of time under totality is worthwhile — especially this eclipse's maximum of 4 minutes 28 seconds. That duration will occur beginning at 1:15 p.m. Mexican Central Daylight Time near Nazas, Mexico, a town of nearly 4,000 residents.
In the U.S., the narrow path where totality occurs runs from the Texas-Mexico border through the Maine-Canada border. Everyone in the contiguous U.S. not within the path of totality will see at least a 16-percent partial eclipse. And while that may sound cool, it doesn't compare to 100 percent.
When the Moon slides into place over the face of the Sun, hazy darkness covers the ground while a beautiful 360° sunset colors the horizon. But your eyes will be locked high above you on two diamond rings, a glorious corona, and planets (possibly a few stars, too) visible in the daytime.
Save the date for the 2024 solar eclipse
The first to see the Moon's shadow is a region just north of Penrhyn Island — one of the Cook Islands in the South Pacific. But the location will only see a 98.5-percent partial eclipse. The real show starts at 11:51 a.m. MDT, when totality strikes Isla Socorro, Mexico. If this small volcanic island is your frontrunner for eclipse viewing, be sure to do so at the island's southeastern tip. That way you'll enjoy 3 minutes 37 seconds of totality.
A few more islands are blessed with Luna's shadow before it finally encounters the continent southeast of Mazatlán, Mexico. Mazatlán will have about 4 minutes 20 seconds of totality.
However, if you're looking for the greatest duration of totality, head to Nazas. There, viewers will enjoy a grand total of 4 minutes 28 seconds. Though, if you're willing to lose up to a second or so of totality, you can position yourself anywhere along the 550-mile (885 kilometers) center line in Mexico to enjoy this cosmic event.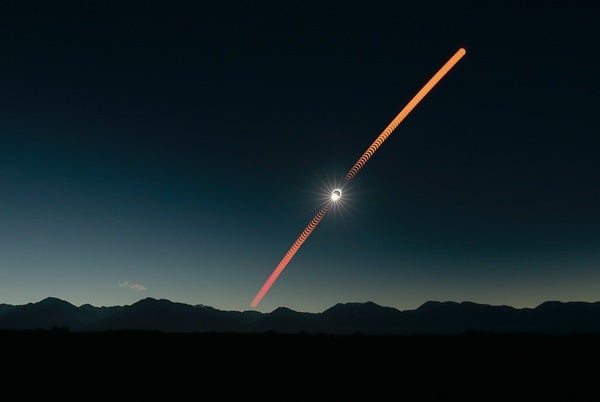 Moving north
Although Mexico has the greatest duration of totality, U.S. views certainly won't disappoint, especially for those living in the Lone Star State. Most of you won't have to travel at all to see the eclipse. Talk about convenient! But even so, a short journey closer to the center line is certainly worth it.
RELATED: 20 of the best places to see the 2024 solar eclipse
Moving across the Rio Grande, the shadow touches the community of Radar Base starting at 12:10 p.m. CDT. Totality kicks off roughly an hour and 20 minutes later, lasting for 4 minutes 27 seconds. Not to be left out, San Antonio, Austin, Waco, Dallas, and Fort Worth all lie under the shadow. While none of those cities are on the center line, more than 11 million residents in Texas alone will have easy access to an eclipse.
From there the shadow continues through Oklahoma, Arkansas, Missouri, Illinois, Kentucky, Indiana, Ohio, Pennsylvania, New York, Vermont, New Hampshire, and Maine.
If you're looking to return to your viewing location from the 2017 eclipse, Carbondale, Illinois is once again under shadow in 2024 — though to get the most bang for your buck, Makanda, which lies just to the south, has a slightly longer duration at 4 minutes 10 seconds of totality. Before you choose Illinois as your prime location, however, a word of caution: The likelihood of clear skies there in April are not nearly as great as they are in August. Ultimately, if you can swing it, traveling southwest increases both your time with totality and your chances of seeing the 2024 eclipse.
Of course, remember that the only statistics we have for now are general ones, averaged over a number of years. The weather on April 8 in a specific location doesn't have to follow the climate trends. It might be clear throughout Maine and cloudy throughout Texas. Probably not, but be sure to monitor the weather at your chosen location starting around April 1.
Plenty of other major cities also lie in Luna's path, including Little Rock, Arkansas; Cleveland, Ohio; and Montréal, Québec. In total, a staggering 31.5 million people are estimated to live within the path of totality. And an additional 117 million reside within 200 miles (322 km) of that line. So, get to your chosen location as early as you can and don't be in a rush to leave post-eclipse.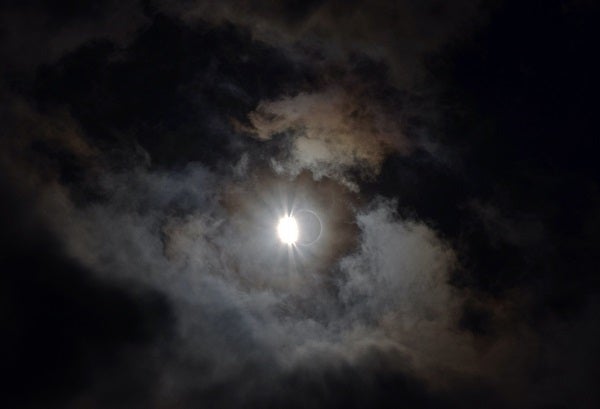 A few highlights and fumbles
As you might imagine, the 2024 total eclipse also will pass over quite a few national treasures, some built by humans and others natural. Photographers near those sites will have opportunities to capture both an earthly and celestial wonder.
Starting with a location that already has an astronomical heritage, some observers may choose to take in the eclipse from Allende, Coahuila de Zaragoza, Mexico. It was there and in the surrounding area on Feb. 8, 1969, that a fireball moving southwest to northeast lit up the sky and exploded, raining thousands of meteorites onto the landscape. And not just any meteorites: These were a rare type called carbonaceous chondrites, some of the most primitive known. In fact, scientists estimate that the Allende meteorite formed 30 million years before Earth. On eclipse day, residents and visitors to this historic site will experience 4 minutes 23 seconds of totality.
The Alamo might have been this eclipse's No. 1 tourist attraction. Unfortunately, the event there is only a 99.941-percent-partial eclipse. That amount of coverage of the Sun's surface by the Moon might sound like it's enough, but at that percentage, your surroundings would be 5,900 times as bright as a Full Moon night. You'll want to drive several miles to the west to experience the grandeur (and safety) of totality.
But one hot spot could be AT&T Stadium in Arlington, where totality will last 3 minutes 17 seconds. The Dallas Cowboys play their home games here. Because the facility has a retractable roof, many of its 80,000 seats will have a great view of the eclipse, which will stand 65° above the horizon at maximum. I don't know if the owners plan to open the stadium for the eclipse but, with seats for tens of thousands of people, it would create one amazing experience.
St. Louis, with a 99-percent-partial eclipse, is another near miss. Too bad, because a shot of the event behind the Gateway Arch would be gorgeous. On the other hand, Indianapolis is right in the middle of the path. Fans of motor sports might want to capture the event with the Indianapolis Motor Speedway's iconic Pagoda scoring tower and Yard of Bricks as their foreground setting.
The next major city covered by the lunar umbra is Cleveland. If weather prospects were better, I'd consider heading there, setting up a sound system in the parking lot of the Rock & Roll Hall of Fame, and watching the eclipse (3 minutes 51 seconds of totality with the Sun 49° high in the southwest) with Pink Floyd's "Dark Side of the Moon" playing in the background. If you'll be in Cleveland, you might want to photograph the facility beneath the hidden Sun.
And, for anyone willing to gamble, the most picturesque images of the event might come from Niagara Falls — provided, of course, that the northeastern U.S. has good weather on eclipse day. From the outlook called Terrapin Point, an eclipse watcher will enjoy 3 minutes 28 seconds of totality. Almost as important, the Sun will hang 46° high in the southwest — directly over the Falls!
Last call
This eclipse is a must-see for anyone who isn't a dedicated eclipse chaser. If you miss it, you'll have to wait two decades for another truly spectacular show in the U.S. At least the Aug. 12, 2045, eclipse will be worth the wait with a maximum of 6 minutes 6 seconds of totality.
But anyone who viewed the 2017 eclipse won't need any convincing to see another in 2024. It's a sight you'll never forget. Here's hoping for clear skies!