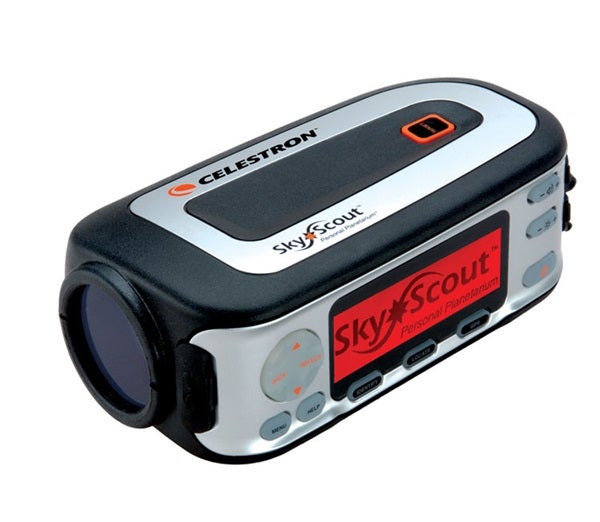 Astronomy: Richard Talcott
This review, "Celestron's SkyScout," appeared in the February 2007 issue of Astronomy magazine
In January 2006, Celestron unveiled its SkyScout Personal Planetarium at the Consumer Electronics Show in Las Vegas. The instrument was a hit with judges, winning an innovation award. This portable, camcorder-sized device wowed show-goers with its ability to locate and identify thousands of night-sky objects. Will the SkyScout join the ranks of milestone advances in backyard astronomy, like the go-to drive and CCD camera? I was eager to find out.
Priced at $399, the SkyScout is a singlepower, battery-operated sighting device with embedded Global Positioning System (GPS) and magnetic-field sensors. The instrument allows users to locate and identify more than 6,000 objects. Celestron programmed the Moon and planets, all 88 constellations, thousands of stars (including hundreds of double and variable stars), and more than 100 deep-sky objects into the SkyScout's database.
To continue reading this review you need to be an Astronomy magazine subscriber.
Subscribers have full access to our equipment review archive and many other great online benefits.
Already a subscriber? Simply log in or create an account below.