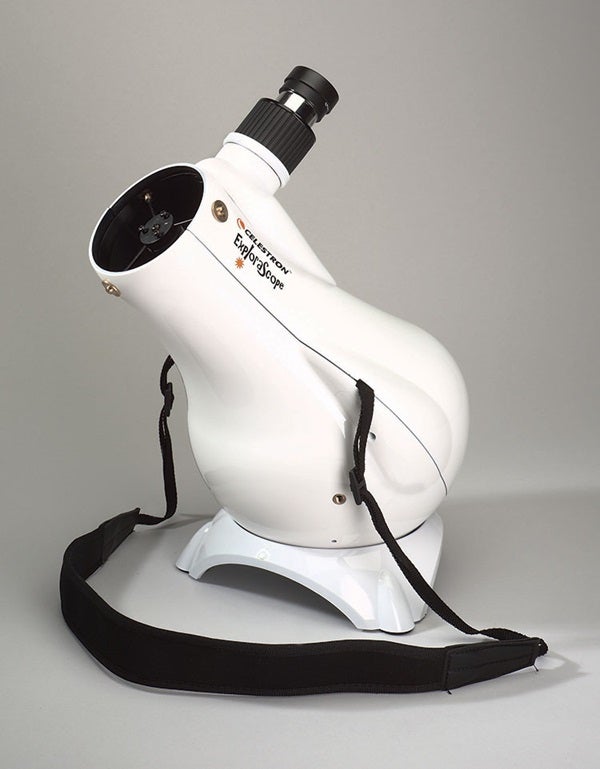 Astronomy: William Zuback
This review, "Backpack this scope," appeared in the February 2005 issue of Astronomy magazine.
These days, telescopes come in a variety of shapes and sizes. No matter which astronomical niche you're interested in, there seems to be a telescope to fit your needs. That is, except for one.What about a telescope for the youngest astronomers? Even the smallest refractors and reflectors are usually too large and too heavy for small-fry stargazers to handle, which means they either have to rely on an adult to set up the telescope for them or do without.
To help fill this gap, Celestron recently introduced the 3.1-inch f/6.9 ExploraScope, a miniature Newtonian reflector poised on a unique tabletop base. The ExploraScope weighs only 5 pounds and measures 14″ long, making it small and light enough for a 7-year-old to carry. The ExploraScope's gourd-like shape is reminiscent of Edmund Scientific's venerable Astroscan, which can trace its own roots to amateur telescopes made more than 30 years ago.
To continue reading this review you need to be an Astronomy magazine subscriber.
Subscribers have full access to our equipment review archive and many other great online benefits.
Already a subscriber? Simply log in or create an account below.