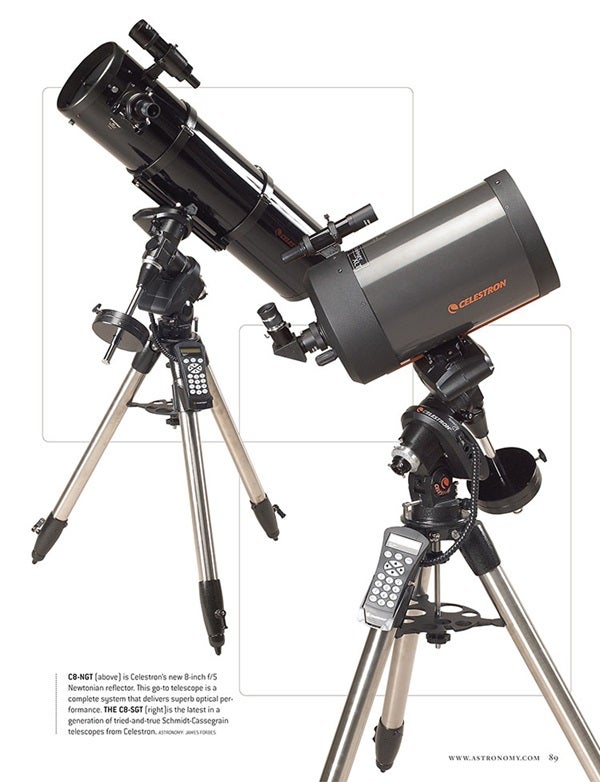 Astronomy: James Forbes
This review, "Celestron's Advanced Series Telescopes," appeared in the August 2004 issue of Astronomy magazine.
The first go-to telescopes, introduced a decade ago, had one thing in common: they were expensive. But as technology improved, telescopes became cheaper to produce, and amateur astronomers saw an amazing evolution. Even introductory-level telescopes were outfitted with scaled-down computer-controlled drives. The introductory systems — as well as the advanced go-to telescopes — were big hits, but in their wake, they left a void in the middle of the market. No mid-priced, computer-controlled telescopes were being built for the serious hobbyist.
As the telescope world continues to evolve, we're beginning to see that niche filled. The latest entries are Celestron's Advanced Series, which includes 4-inch and 6-inch refractors; 6-, 8-, and 10-inch Newtonian reflectors; and 5-, 8-, and 9.25-inch Schmidt-Cassegrain telescopes. These scopes are not new, having stood the test of time, but are redesigned instruments. What's underneath these telescopes, however, is new. Except for the C4-R refractor and C6-N reflector, the improved CG-5 equatorial mount supports these telescopes.
To continue reading this review you need to be an Astronomy magazine subscriber.
Subscribers have full access to our equipment review archive and many other great online benefits.
Already a subscriber? Simply log in or create an account below.