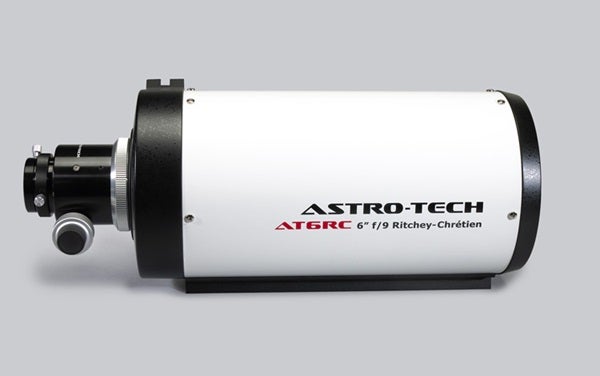 Astronomy: William Zuback

This review, "Astro-Tech's AT6RC offers great imaging on a budget," appeared in the March 2010 issue of Astronomy magazine
For more than a century, Ritchey-Chrétien (RC) reflectors have been the most common type of telescope installed in professional observatories. The design combines a hyperbolic concave primary mirror with a hyperbolic convex secondary mirror to produce tack-sharp images free of coma, astigmatism, and spherical aberration. Amateur astronomers, however, have been slow to respond to RCs. Because their mirrors have curves that are difficult to figure, RCs can be expensive to make.
Recently, Astronomy Technologies (Astro-Tech), based in Norman, Oklahoma, did what many thought was impossible: offer RC optics in an affordable package. The company's 6-inch f/9 AT6RC includes enhanced aluminum mirrors coated with quartz, a dual-speed Crayford-style focuser, a Vixen-style dovetail rail for attaching the tube to many of today's most popular mounts, and a standard finder scope shoe – all for an amazing $795.
To continue reading this review you need to be an Astronomy magazine subscriber.
Subscribers have full access to our equipment review archive and many other great online benefits.
Already a subscriber? Simply log in or create an account below.