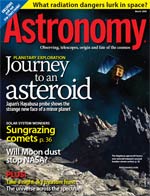 March 2006
The world's best-selling astronomy magazine offers you the most exciting, visually stunning, and timely coverage of the heavens above. Each monthly issue includes expert science reporting, vivid color photography, complete sky coverage, spot-on observing tips, informative telescope reviews, and much more! All this in an easy-to-understand, user-friendly style that's perfect for astronomers at any level.
Features
The Hayabusa probe revealed how different space rocks can be when it visited asteroid Itokawa.
For comets straying too close to the Sun, breaking up is easy to do.
When the Mars rovers landed, mission scientists existed in martian time.
NASA's plans for human visits to the Moon and Mars may be waylaid by a common factor — dust.
The universe across the spectrum
From radio waves to gamma rays, astronomers use all types of light to explore the cosmos.
Radiation can damage DNA and even kill, and it permeates space. How can we protect astronauts?
One special night can show you the northern sky's 109 best objects.
The fabulous foothill gang
Central California's astronomical brain trust boasts imagers, inventors, and manufacturers.
Have lens, will travel
Convenience, low cost, and good optics make for a fine pair of travel scopes.
Departments
Bob Berman's strange universe
Glenn Chaple's observing basics
Phil Harrington's binocular challenge