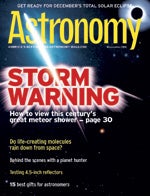 November 2002
The world's best-selling astronomy magazine offers you the most exciting, visually stunning, and timely coverage of the heavens above. Each monthly issue includes expert science reporting, vivid color photography, complete sky coverage, spot-on observing tips, informative telescope reviews, and much more! All this in an easy-to-understand, user-friendly style that's perfect for astronomers at any level.
Features
Storm Warning
The last great meteor storm for a generation should prove a spectacular sight.
It Came from Outer Space
Does outer space manufacture and deliver the chemical stew necessary to jump-start life throughout the universe?
A proposed new telescope will survey the entire sky every few nights, revealing anything that changes and mapping the distribution of dark matter.
The pursuit of planets outside our solar system is a fast-growing area of astronomy. Witness a day in the life of a planet hunter.
Fade to Black
Next month's eclipse will snuff out the sun for observers in Australia and Africa. Here's how to make the most of those brief moments of totality.
Beginner Telescopes
Scope out these 4.5-inch reflectors for novice stargazers.
'Tis the Season to be Shopping
Great gift ideas for the astronomy buff in your life.