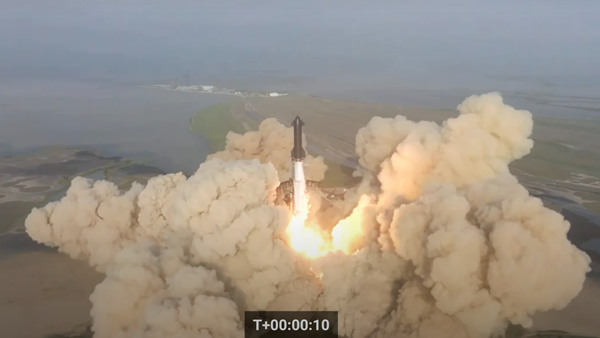 The largest, most powerful rocket ever made climbed toward the heavens for four minutes before it experienced what SpaceX calls a "rapid unscheduled disassembly."
You could hear a roar of cheers and rocket boosters as SpaceX's fully integrated Starship and Super Heavy booster, the most powerful launch system ever created, lifted off the launch pad in Boco Chica, Texas, at 8:33 A.M. on April 20.
Over the course of the next four minutes, the 400-foot-tall rocket climbed to an altitude of some 24.2 miles (39 kilometers). Starship was intended to keep climbing for about two more minutes before separating from the Super Heavy booster and coming back down to Earth for a water entry. But several of the rocket's 33 engines prematurely flamed out, causing Starship to tumble in midair and forcing the rocket to self-destruct.
Despite not achieving all the goals of the test flight, SpaceX is still considering the flight a success. "To get this far is amazing," SpaceX's Kate Tice said during the webcast. "Everything after clearing the tower was icing on the cake."
According to the SpaceX website, "With a test like this, success comes from what we learn, and we learned a tremendous amount about the vehicle and ground systems today that will help us improve on future flights of Starship."
The rocket was originally scheduled to take off from the Starbase Monday morning (April 17) until a last-minute frozen valve forced mission planners to reschedule the flight. It is unclear whether a similar issue was the cause of the multiple engine failures during Thursday's flight.
The intended purpose of Starship is to be a fully reusable spacecraft that can carry both cargo and astronauts to the Moon and beyond. The ship, the size of a 40-story building, is expected to play a pivotal role in both the Artemis 3 and Artemis 4 missions, scheduled for 2025 and 2028, respectively. This would include serving as the lunar landing vehicle, carrying four crew members along with equipment and supplies to the Moon's surface, during Artemis 3 and Artemis 4.
Founder and CEO of SpaceX, Elon Musk, said on his Twitter account that the company hopes to attempt another Starship test flight within a few months.
Editor's note: A previous version of this article erroneously stated that Artemis 3 was scheduled for a 2024 launch.