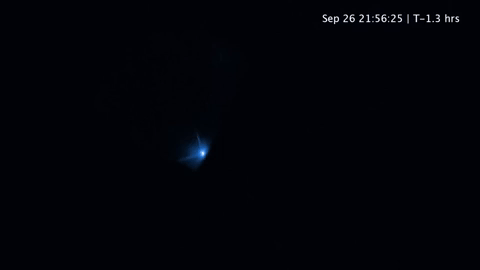 Last September, NASA crashed the refrigerator-sized DART spacecraft into a small asteroid named Dimorphos at a speed of some 13,000 mph (21,000 km/h). The impact not only successfully changed the trajectory of Dimorphos, which orbits a companion asteroid named Didymos. It also ejected an expansive cloud of debris that gracefully evolved over the next several weeks.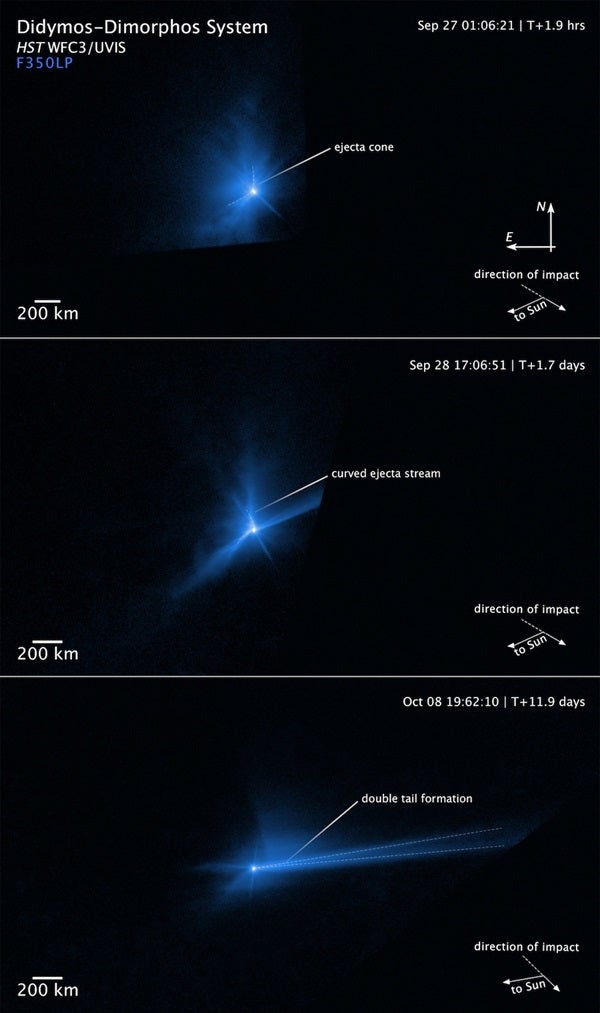 In the days following the impact, NASA's Hubble Space Telescope trained its eye on Dimorphos' ejecta cloud to help astronomers track hour-by-hour changes in the more than 1,000 tons of dust and rock that were blasted from the asteroid. This three-panel image shows how that debris cloud evolved in the weeks following the impact.
The topmost panel in the image, which Hubble captured just 2 hours after the impact, reveals an ejecta cone of debris around Dimorphos. As the ejected particles that make up this cloud reflected sunlight, it tripled the overall brightness of the Didymos-Dimorphos system.
The middle panel of the image, captured 1.7 days after impact, shows the cone-shaped ejecta pattern beginning to distort. Most notably, the cloud begins to display rotating, pinwheel-shaped features, which are the result of the gravitational pull of Dimorphos' larger companion asteroid, Didymos.
The bottom panel of the image, captured nearly 12 days after impact, features a comet-like tail streaming from Dimorphos. This tail was the result of sunlight exerting pressure on the tiny dust particles within the ejecta cloud, pushing them in the direction opposite the Sun. This particular frame also shows when the asteroid's tail mysteriously split in two for a couple days.
But despite Hubble's impressive views of the morphing debris cloud around Dimorphos, astronomers still have a lot of work to do before they fully understand the test results.
"We've never witnessed an object collide with an asteroid in a binary asteroid system before in real time, and it's really surprising," said DART team member Jian-Yang Li of the Planetary Science Institute, in a NASA release. "Too much stuff is going on here. It's going to take some time to figure out."
A study, led by Li, that details the evolution of the post-impact ejecta cloud was published March 1 in the journal Nature.