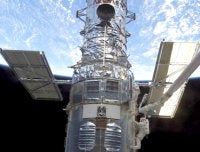 If NASA announces a servicing mission for Hubble
Tuesday's announcement follows a final evaluation meeting at NASA Headquarters Friday, when senior agency officials presented their recommendations to Griffin on the feasibility of a servicing mission.

If the decision is made to go ahead with a servicing mission, NASA will hold several other media events on Tuesday, October 31 (all times Eastern):

2:30 p.m. – A news conference with the astronauts who would carry out the mission will be held at the Johnson Space Center and broadcast live on NASA TV. Questions from reporters will be taken from Goddard, Kennedy, and NASA Headquarters.

3:30-5 p.m. – Interview opportunities on NASA TV. Hubble Space Telescope experts will be available for satellite interviews. Available experts will be determined.

5-7 p.m. – Astronaut interview opportunities on NASA TV. Certain servicing crewmembers will be available for satellite interviews. Available astronauts will be determined. Michael Bakich, Senior Editor:
"I'm ecstatic! The decision to service Hubble should have been made years ago, but bureaucracy creeps along at its own pace. This was the right call, however, and it's not too late. Hubble may be the single most important machine ever constructed. It certainly has revealed more about the universe – and made more fundamental discoveries – than any telescope preceding it. What's more, Hubble is at its peak, scientifically. With a little attention, it will continue to serve all of us for many more years, or until the next-generation space telescope supercedes it."
Click here for Bakich's bio. Laura Baird, Associate Editor:
"Hubble has afforded us previously undreamed-of insights into the universe, but its time is done. We're better off investing money in a next-generation scope that will advance astronomical investigation further, and possibly take us in new, unexpected directions."
Click here for Baird's bio. More Astronomy resources:
Astronomy news
This week's sky events
Astronomy basics
Glossary of astronomical terms
Return to Astronomy "For the media" page
Dave Eicher, Editor:
"The Hubble Space Telescope has done more to accelerate our knowledge of the cosmos than any other previous instrument in history. Because of its capability, we now stand at the fringe of answering astronomy's big questions: how the universe came to be, how stars and galaxies formed, what will become of the cosmos, how many other civilizations may lie out there in the blackness of space. Extending this unique time traveler, one that lets us see ourselves like never before, should be a top priority for NASA."
Click here for Eicher's bio.
Laura Layton, Associate Editor:
"Should we service the Hubble Space Telescope again?
"Emphatically, yes. Going ahead with space shuttle Servicing Mission 4 (SM4) is essential to prolonging the life and expanding the scientific abilities of NASA's Hubble Space Telescope.
"Why wouldn't one want to extend the life of one of the most prolific space telescopes? Astronaut safety is one consideration. An engineering risk analysis is under way, with results expected any day now. Barring putting a space-shuttle crew in danger, I can think of no other reason to abandon such a successful scientific instrument."
Click here for Layton's bio.
Important information for reporting on this topic:Rich Talcott, Senior Editor:
"Without question, Hubble has been NASA's greatest success story of the past 30 years. To let it simply die in orbit – a real possibility without another servicing mission – with no successor ready to take its place, would be just short of tragic. As long as NASA is convinced that the shuttle and its crew can get to Hubble and back with only minimal risk, the decision should be a no-brainer."
Click here for Talcott's bio.
Francis Reddy, Associate Editor:
"No single telescope has done more to advance astronomy than Hubble. A final servicing mission could repair one failed instrument, replace Hubble's failing batteries and gyros, and add an improved camera. Fix it, and it'll deliver cutting-edge science into the next decade."
Click here for Reddy's bio.
WAUKESHA, WI – On Tuesday, October 31, NASA Administrator Michael Griffin will announce a decision on a space shuttle mission to service the ailing Hubble Space Telescope. The announcement is scheduled for 10 a.m. EST, during an agency-wide employee meeting at NASA's Goddard Space Flight Center in Greenbelt, Maryland. The event will air live on NASA TV and www.nasa.gov.

A news conference will follow at Goddard – also broadcast live on NASA TV – at 12:45 p.m. Reporters will then ask questions from NASA's Kennedy Space Center in Florida, Johnson Space Center in Houston, and NASA Headquarters in Washington D.C. Media who want to attend the news briefings must contact Goddard public affairs to arrange accreditation and access to the center. Reporters should call either Ed Campion or Susan Hendrix at 301.286.8955.

Experts at your disposal
Astronomy magazine editors are available to provide perspective on NASA's decision. To request an interview, please call or e-mail Matt Quandt at 262.798.6484 or mquandt@kalmbach.com. If after 5 p.m. Central time, call 414.719.0116.

For your reference
Astronomy's editors posted their personal opinions on this anticipated announcement below. In addition to editors' perspectives, you can find a schedule of media events for tomorrow's announcement and supplemental material for reporting on Hubble – including a podcast and a PDF of an Astronomy magazine article about Hubble's fate.