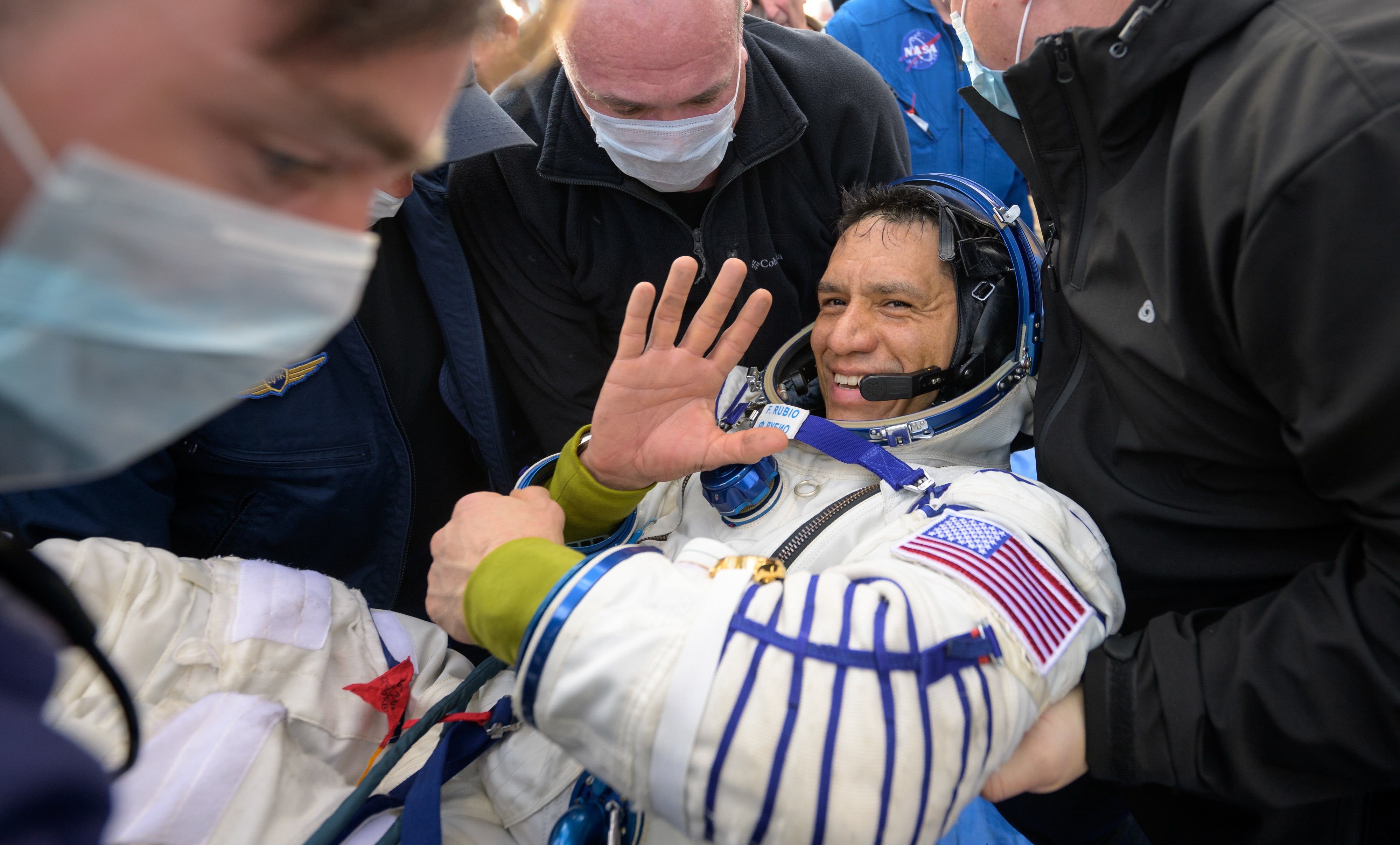 After an accidental year-long stay in space, NASA astronaut Frank Rubio and Roscosmos cosmonauts Sergey Prokopyev and Dimitri Petelin successfully landed this morning, Sept. 27, 2023, near the town of Dzhezkazgan, Kazakhstan. The crew initially launched into space on Sept. 21, 2022. After medical exams, the crew will be flown to their hometowns. Cosmonauts Prokopyev and Petelin will be flown to Star City, Russia, while Rubio will board a NASA jet to Houston.
The three crew members spent 371 days in low-Earth orbit aboard the International Space Station (ISS), giving Rubio the record for the longest spaceflight by a U.S. astronaut. The previous mark had been set by NASA's Mark Vande Hei at 355 continuous days in orbit. The world record for the longest stint in space is held by cosmonaut Valeri Polyakov, who logged 437.7 consecutive days on the Russian space station Mir during 1994 and 1995.
"Frank's record-breaking time in space is not just a milestone; it's a major contribution to our understanding of long-duration space missions," said NASA Administrator Bill Nelson in a press release. "Our astronauts make extraordinary sacrifices away from their homes and loved ones to further discovery. NASA is immensely grateful for Frank's dedicated service to our nation and the invaluable scientific contributions he made on the International Space Station. He embodies the true pioneer spirit that will pave the way for future exploration to the Moon, Mars, and beyond."
An extended mission
The milestone comes after Rubio and his fellow crewmates were left stranded on the ISS along with Prokopyev and Petelin after the Russian Soyuz MS-22 spacecraft docked to the station experienced a coolant leak on Dec. 14, 2022. Russian mission control noticed the leak during preparations for a planned spacewalk by Prokopyev and Petelin. According to a NASA blog post, the walk was canceled following the discovery to evaluate the impact on the docked spacecraft.
Roscosmos engineers found that the leak was caused by an impact from a micrometeoroid. They also determined that lacking coolant, the Soyuz MS-22 was unsafe for a normal crew return (though it could be used if there were an emergency on the space station).
On February 23, 2023, the Soyuz MS-23 launched uncrewed as a "rescue" spacecraft to replace MS-22. But to keep the ISS fully crewed, MS-23 was not scheduled to bring the crew back to Earth until the next Soyuz, MS-24 was prepared. As a result, Rubio's six-month adventure aboard the ISS was extended to a year.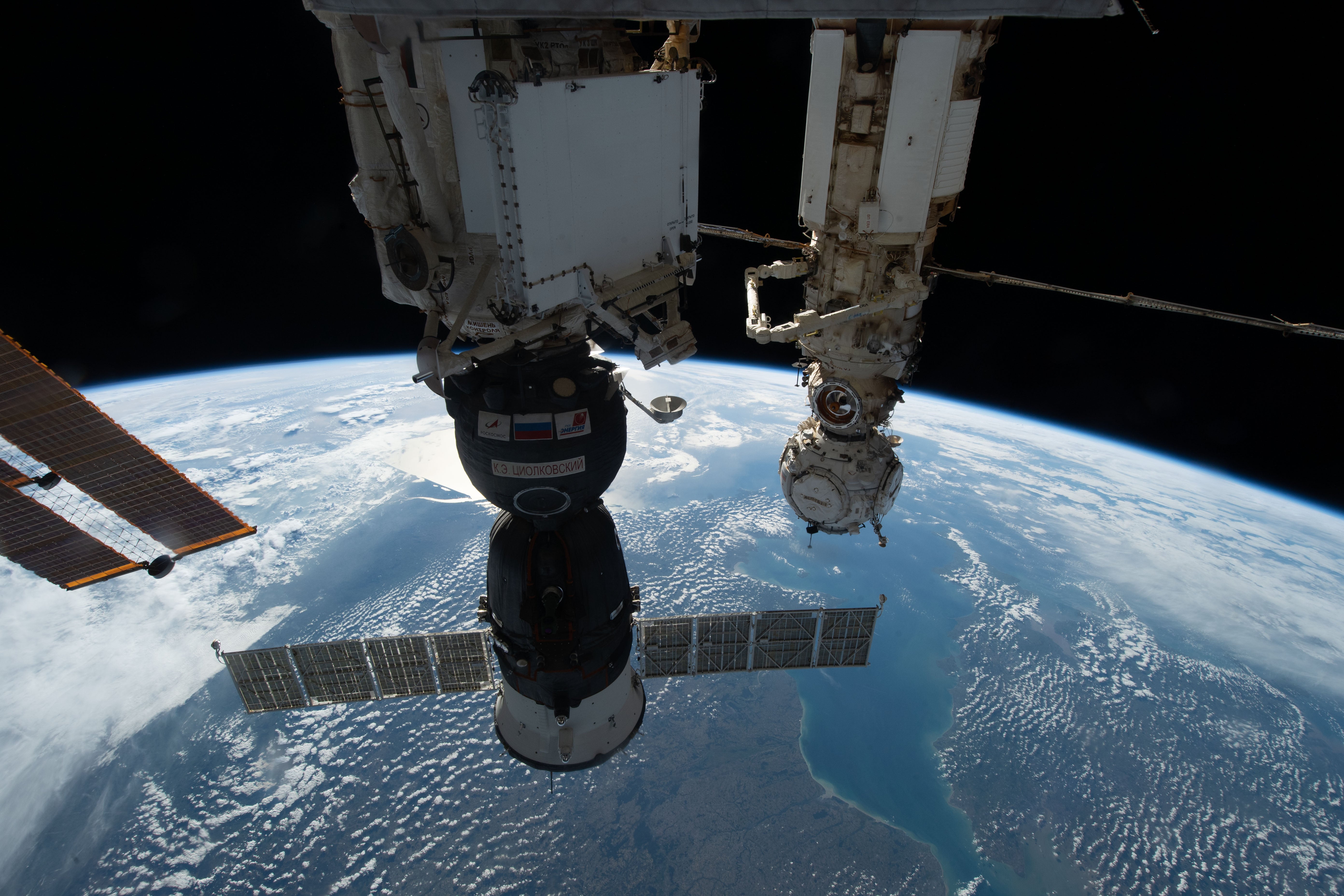 MS-24 launched Sept. 15, bringing a trio of fresh astronauts — finally relieving Rubio, Prokopyev, and Petelin, and clearing the way for them to depart for Earth aboard MS-23.
"Thursday marks a unique milestone for American human spaceflight, and so I would like to take a moment and acknowledge and thank all the people who have helped me to achieve this goal," Rubio said in a NASA live-streamed news briefing. "So first and foremost, my wife and our four kids, whose resilience and strength have carried me through this entire mission."
Rubio's extended mission and first time in space saw him complete 5,936 orbits, NASA said, covering a distance of more than 157 million miles (253 million kilometers), equivalent to about 328 trips to the Moon and back. The agency also noted that the unusual length of Rubio's stay allowed researchers to observe the effects of long-duration flights — a key issue as NASA prepares for the Artemis missions to the Moon and potential missions to Mars.
When Rubio was asked about what he is looking forward to on Earth, he listed: silence and relief from the noisy hum of the ISS, relaxing in his backyard, and eating a big, green, fresh salad.
What's next?
As the trio prepared to return to Earth, on Sept. 26, Prokopyev formally handed over his command of the space station to European Space Agency (ESA) astronaut Andreas Mogensen. The departure of Rubio, Prokopyev, and Petelin marks the beginning of Expedition 70 aboard the ISS. The Expedition 70 crew are cosmonauts Nikolai Chub, Konstantin Borisov, and Oleg Kononenko; Japan Aerospace Exploration Agency (JAXA) astronaut Satoshi Furukawa; and NASA astronaut Loral O'Hara; ESA astronaut and Expedition 70 Commander Andreas Mogensen, and NASA astronaut Jasmin Moghbeli. Together, they will continue research and maintenance on the ISS.