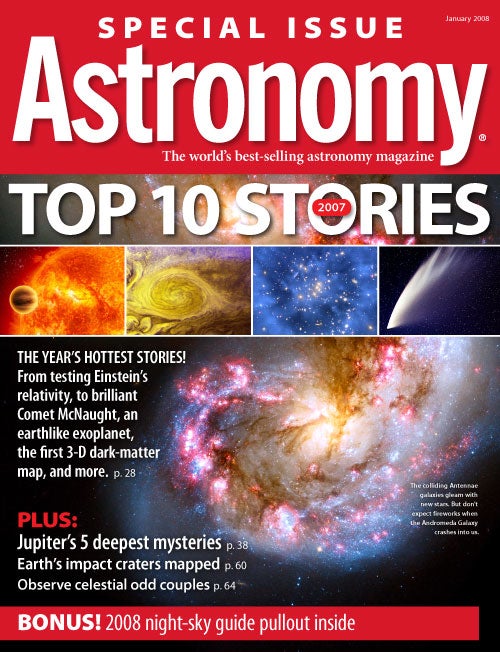 More resources from Astronomy.com:

December 4, 2007
WAUKESHA, WI — In 2007, a brilliant comet stunned southern sky watchers, astronomers uncovered the most earthlike exoplanet yet, and physicists prepared to awaken their biggest machine ever. Astronomy editors ranked the stories of 2007 and assembled this countdown of the biggest stories.
In "Top 10 space stories of 2007,"
Astronomy
magazine Senior Editor Francis Reddy highlights the most exciting astronomy events of the year.
Astronomy
's January 2008 issue arrives on newsstands December 4.
Astronomy magazine's top space stories of 2007
10: Comet McNaught — the brightest comet in 42 years surprised — and impressed — Southern Hemisphere observers.
9: Astronomers tally of planets found around other stars surpassed 250.
8: The Pluto-destined New Horizons spacecraft flew by Jupiter and captured the most detailed images of the planet in 4 years.
7: NASA's Cassini spacecraft flew near the north pole of Saturn's largest moon, Titan.
6: Physicists present the most detailed analysis yet of the future cosmic collision between the Milky Way and Andromeda galaxies.
Find 5-1 in the January 2008 issue of Astronomy magazine.

Three stories to watch in 2008

In January — Jules Verne, the European Space Agency's new Automated Transfer Vehicle, will launch to the International Space Station.
January 15 — NASA's Messenger probe will return the first close-up images of Mercury in 33 years.
May 26 — NASA's Phoenix probe will land on Mars.

Mysterious Jupiter
The largest planet in our solar system holds some of the deepest mysteries. In the past 35 years, seven NASA spacecraft have flown past Jupiter, revealing some of the planet's secrets.

The Galileo orbiter, the only mission that reached Jupiter and stayed (1995-2003), was more successful than all the other missions combined. Galileo answered many scientists' questions about Jupiter and its moons, but many questions remain. Michael Carroll's "The biggest planet's 5 deepest mysteries" discusses unanswered questions about the planet, including the nature of Jupiter's core, how Jupiter's magnetic field works, and more.

Double your pleasure
Amateur astronomers love finding celestial targets with their telescopes. Alan Goldstein's "Observe celestial odd couples" describes the top 10 "odd couples" to spot at the same time. "When more than one type of object lies in your eyepiece, it's like an astronomical two-for-the-price-of-one-sale," writes Goldstein.

New pictures, old plates
Astrophotographer Charles Shahar creates images with as much visual impact as the Hubble Space Telescope by colorizing image from the Digitized Sky Survey (DSS). In "New pictures from old plates," Shahar explains how he changes DSS and DSS 2 images, a collection of Schmidt photographic plates covering the entire sky, from black-and-white to full-color astroimages.

Also in the January 2008 Astronomy:

"Illustrated: Earth impacts at a glance" — Asteroids and comets have slammed into our planet innumerable times. Here's where they've hit.
"A wide-field imager's dream scope" — Tele Vue's NP101is delivers ultra-sharp images.
The October 2007 Astronomy also includes Ask Astro, Astro news, Bob Berman's strange universe, Glenn Chaple's observing basics, Phil Harrington's binocular universe, Stephen James O'Meara's secret sky, The sky this month, New products, and Reader gallery.

Astronomy's mission:
Astronomy promotes the science and hobby of astronomy through high-quality publications that engage, inform, entertain, and inspire.