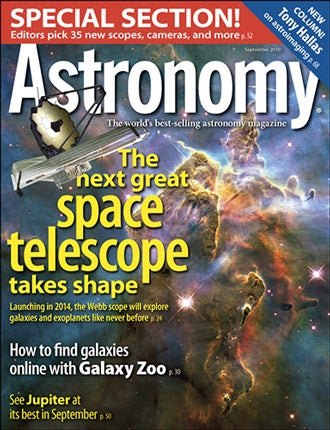 Editor David J. Eicher gives a video tour of the September 2010 issue
WAUKESHA, Wis. — It's hard to imagine any scientific instrument more successful than the Hubble Space Telescope, with its beautiful photos, legions of fans, and underdog-turned-hero success story, but then again NASA's in the business of meeting difficult expectations. Its latest effort will begin in late 2014 or early 2015: the James Webb Space Telescope.

In "The next great space telescope takes shape," Francis Reddy, a senior science writer at NASA's Goddard Space Flight Center, explains the need for a next generation space telescope (Webb's original name) and exactly what it'll look at. "Webb's mission is as simple as its design is state of the art: to show us what Hubble cannot," Reddy writes.

Designed to see in infrared light, Webb will go farther than Hubble, which mostly observes visible light. Hubble's successor will study early galaxies, exploding stars, and the dusty regions of stellar and planetary birth, among other objects. "These represent only a few of the scientific questions that the James Webb Space Telescope will address," writes Reddy. The future, unlike Webb's targets, looks bright.

Pick up the September issue of Astronomy, on newsstands August 3, to learn the history behind the James Webb Space Telescope and what astronomers expect of its mission.

"Welcome to the Galaxy Zoo"
Professional astronomers aren't the only ones making contributions to the science of astronomy, as University of Alabama astronomer William Keel makes clear in "Welcome to the Galaxy Zoo." The Internet-based Galaxy Zoo, with its lively community of "Zooites" and benevolent "Zookeepers," makes it possible for almost anyone to begin classifying galaxy shapes within minutes of logging on. With 11 scientific papers and a mysterious object (Hanny's Voorwerp, a cloud of gas near galaxy IC2497) to its credit, Galaxy Zoo is quickly becoming an astronomical powerhouse.

"Astronomy's first annual Star Products"
Phil Harrington and the rest of Astronomy's staff worked hard to decide which of the latest telescopes, binoculars, and other astronomy gear to include in this list of the 35 best. You can't go wrong with any one of them, but why stop at just one?

Also in the September 2010 Astronomy

"Letter to Galileo — How astronomy has changed over the past 400 years" — If Galileo could see us now, what would he think about our study of the cosmos?
"The king of planets reigns in September" — With the giant planet bigger and brighter than it's been in more than a decade, let the cry go forth: It's Jupiter time!
"A night at Granite Gap" — Astronomy, geology, history, and much more are converging in a big way in southwestern New Mexico. And amateur astronomers will benefit the most.
"The Sky this Month" — Exclusive pullout star charts will guide you through September's night sky.
"Imaging the Cosmos" — Our newest columnist, astroimager Tony Hallas, details how to get cleaner images.
The September issue of Astronomy also includes Astro News, Bob Berman's Strange Universe, Glenn Chaple's Observing Basics, David H. Levy's Evening Stars, Stephen James O'Meara's Secret Sky, Ask Astro, Deep-sky Showcase, New Products, Reader Gallery, and The Cosmic Grid.