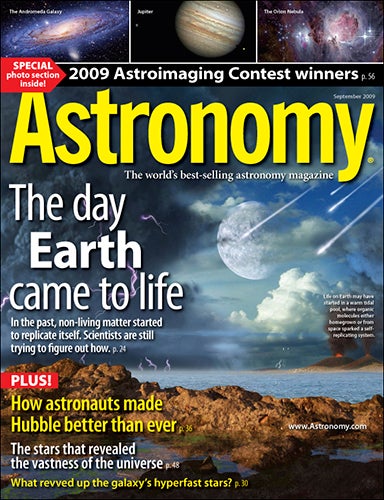 Video: Editor David J. Eicher previews the September 2009 issue
WAUKESHA, Wis. — Through the years, scientists have revealed many amazing things about the universe: The cosmos began with the Big Bang approximately 13.7 billion years ago. Earth formed from material in a debris disk that at one time surrounded the Sun. The Moon became our only natural satellite after a massive collision between a Mars-sized object and Earth.

Peek inside the latest issue of Astronomy magazine.

Still, one of the most nagging mysteries puzzles researchers: Where did life come from? In "The day Earth came to Life," James Trefil and Wanda O'Brien-Trefil discuss theories scientists have come up with to explain how living things arose from non-living matter.

"Unfortunately, scientists don't even know what that early life looked like," says Trefil and O'Brien-Trefil. "The issue is whether something like modern complexity was there at the beginning of life or whether that complexity evolved from simpler beginnings."

Pick up the September issue of Astronomy, on newsstands starting August 4, to learn more about the different possibilities that may explain life on Earth.

"Astronomy's 2009 Astroimaging Contest"
In a special astrophotography section spanning 11 pages, Senior Editor Michael E. Bakich reveals the winners of the magazine's 2009 Astroimaging Contest, shares some of the other great entries, and offers 10 tips for beginning astroimagers. The grand prize image by Tony Hallas of Foresthill, California, is a stunning shot of the Andromeda Galaxy (M31) displayed in a two-page photo.

"What revved up the galaxy's hyperfast stars?"
Since 2003, astronomers have found 16 stars moving so fast that they are escaping the Milky Way's gravity. In "What revved up the galaxy's hyperfast stars?" Ray Jayawardhana explores four theories to explain how those recently discovered stars reached such high velocities, including one suggesting the slingshot is the Milky Way's central black hole.

Deep-sky Showcase
This month, Astronomy introduces Deep-sky Showcase, a new department that will feature some of Editor David J. Eicher's favorite deep-sky observing targets. In each issue, Eicher will bring you the story behind two objects and share a personal sketch of each.

Also in the September 2009 Astronomy

"A new day dawns for Hubble" — Shuttle astronauts installed two new instruments, fixed two older ones, and upgraded the Hubble Space Telescope's gyroscopes and batteries in NASA's final servicing mission.
"The stars that revealed the vastness of the universe" — Cepheids are pulsating variable stars that astronomers use to measure cosmic distances. They remain at the heart of solving key cosmic riddles.
"The Sky This Month" — Exclusive pullout star charts will guide you through September's night sky.
The September issue of Astronomy also includes Astro News, Bob Berman's Strange Universe, Glenn Chaple's Observing Basics, David Levy's Evening Stars, Stephen James O'Meara's Secret Sky, Ask Astro, Astro Confidential, Telescope Insider, New Products, and The Cosmic Grid.