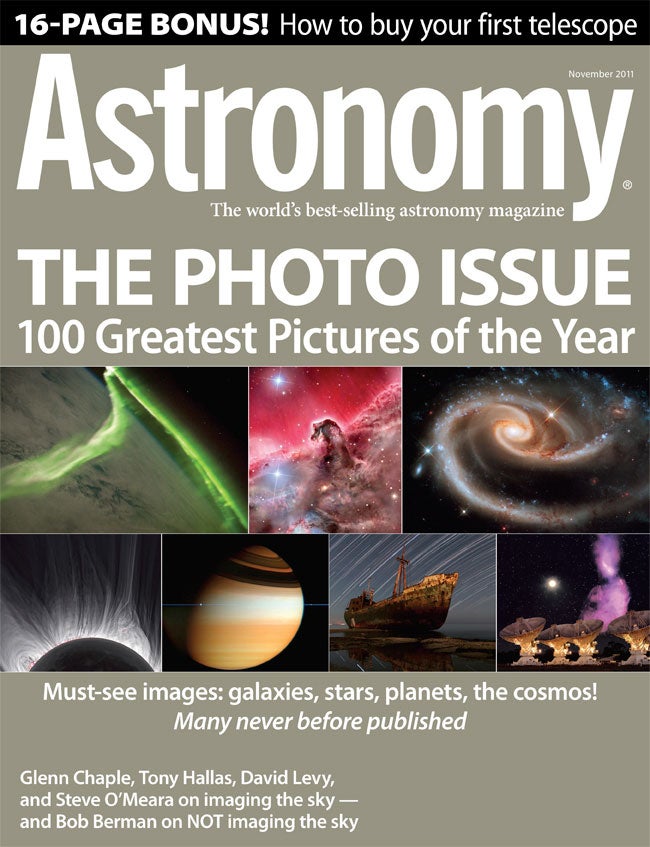 Waukesha, Wis. — The editors of Astronomy magazine see a lot of astrophotographs, many of which are simply awesome. So, instead of hoarding these images on our hard drives, we've decided to share some of the most spectacular ones with our readers. The November issue features the 100 greatest images that we've come across this past year. The 38-page section takes you on a tour of the cosmos — from earthly phenomena to nearby objects to distant galaxies.One of the most striking images features Earth and the Moon taken by the MESSENGER spacecraft, which is currently orbiting Mercury. It's amazing how miniscule our planet and satellite look from even a relatively nearby world.Moving to a more distant object, one imager captured the filaments of glowing gas of the Vela Supernova Remnant brilliantly. The object looks three-dimensional in this astrophotograph.This special issue also includes spectacular images of galaxy collisions hundreds of millions of light-years away. One such object is the Atoms-for-Peace Galaxy (NGC 7252) captured by a professional observatory. The merged pair spans 660,000 light-years and lies 220 million light-years from Earth.To see all of these amazing pictures, pick up the November issue of Astronomy, on newsstands October 4.
"How to buy your first telescope"
Sponsored by Celestron, this 16-page booklet provides you with all the information you need to purchase your first telescope. It opens with 11 of the most-asked questions, like, "Apart from quality optics, what's the most important thing in a telescope system?" The Astronomy editors include descriptions of the main telescope types, an overview of mounts, and details on important accessories (like eyepieces and filters). There's even a section on how to start observing and what to look at first.
November night-sky events visible without optical aid
November 9 — Venus and Mercury lie near Antares in Scorpius shortly after sunset.
November 17/18 — The Leonid meteor shower hits its height this evening. Unfortunately, the Last Quarter Moon lies near the shower's radiant in Leo the Lion, but you should still be able to catch a few meteors per hour from a dark-sky location.
November 25 — Observers in parts of New Zealand, South Africa, Tasmania, and Antarctica will see the Moon partially eclipse the Sun.
Also in the November issue
"The Sky this Month" — Exclusive pullout star charts will guide you through the night sky.
Bob Berman's Strange Universe: "Stay at the eyepiece" — A live view through a telescope can create the visceral response astroimages can't.
Glenn Chaple's Observing Basics: "Cellphone imaging" — You don't need expensive equipment to shoot the Moon.
Stephen James O'Meara's Secret Sky: "Capturing the night's 'flying flames' " — Follow these principles to photograph deadly but dazzling lightning as it tears through the sky.
David H. Levy's Evening Stars: "Of names, codes, and photographs" — Capturing the visual splendor of the night sky can be a rewarding — and complicated — aspect of your astronomy routine.
Tony Hallas' Imaging the Cosmos: "Working with color" — Take a spin around the color wheel to fix your image problems.
The November issue of Astronomy also includes Astro News, Astro Confidential, The Cosmic Grid, New Products, Web Talk, and Letters.