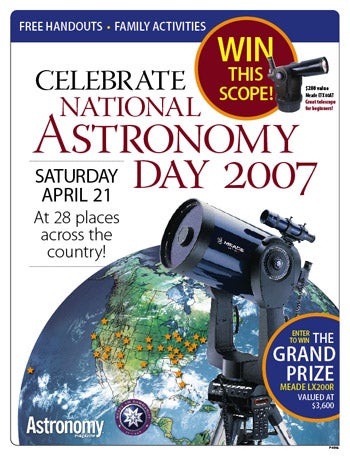 More resources from Astronomy magazine:
Astronomy news
This week's sky events
Astronomy basics
Glossary of astronomical terms
Return to Astronomy "For the media" page

Astronomy's mission:
Astronomy
promotes the science and hobby of astronomy through high-quality publications that engage, inform, entertain, and inspire. WAUKESHA, WI – National Astronomy Day takes place April 21, and
Astronomy
magazine and
Meade 4M
again join forces with the country's most prestigious science museums to put on the year's biggest star party.
As families prepare for their summer camping trips, National Astronomy Day provides the perfect opportunity for them to learn about how to observe shooting stars, planets, and comets in the coming months.
Experts at
28 locations across the nation
will inspire and engage kids and adults alike with hands-on activities, demonstrations, presentations, telescope observing, and more. These activities will showcase the visually stunning and mind-boggling events of deep space.
To obtain contact information for local coordinators, please contact Matt Quandt:

Visitors at the events will receive free material from Astronomy magazine – perfect resources for family camping trips, homework assignments, and scout-troop projects – and also can enter to win a Meade telescope.

Astronomy magazine and Meade 4M are committed to developing and sponsoring efforts like National Astronomy Day to help stimulate public interest in science, exploration, discovery, and imagination. This marks the fourth year in a row these two companies have sponsored this Astronomy Day program.

National Astronomy Day history
In 1973, an amateur astronomer from California, Douglas Berger, started Astronomy Day. The Chabot Space and Science Center in Oakland – one of this program's partners – hosted the first Astronomy Day. Berger wanted to introduce the public to the hobby and science of astronomy. Thirty-four years later, hundreds of local astronomy clubs and science organizations celebrate National Astronomy Day by introducing kids and adults to the infinite wonders of our universe.

Helpful links:

Listen to the podcast of Astronomy magazine Senior Editor Michael Bakich and the Astronomical League's Terry Mann talk about Astronomy Day with Meade's Scott Roberts.
The Astronomical League provides information for hundreds of local astronomy-club events throughout the country.