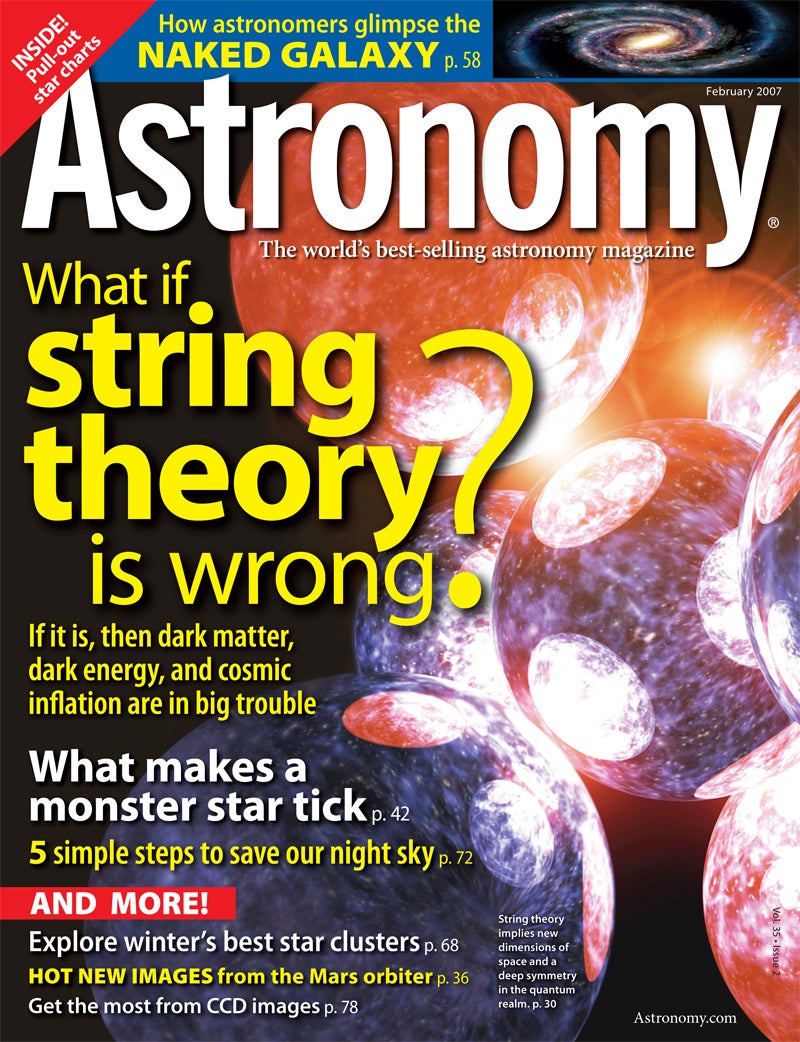 WAUKESHA, WI – It's been a theory of the universe for 3 decades now; string theory says one-dimensional strings of energy exist in a 10-dimensional universe, and that strings' vibrations create electrons, quarks, and all the particles we know. But what if string theory is wrong?

That's the big question NASA astronomer Dr. Sten Odenwald poses to Astronomy readers in this month's issue, available on newsstands now. If it is, then dark matter, dark energy, and cosmic inflation are in big trouble.

Imagine a future in which physicists are delivered irrefutable evidence that string theory doesn't work in our physical world. Dark matter, dark energy, and cosmic inflation – all things science has come to accept – would become moot. And without a logical framework in which to pose and answer questions – one derived from the same math string theory helped create – physicists' inquiries would devolve into semantic quibbles. It would be a disaster to astronomy and to our understanding of the universe.

To discuss the February 2007 Astronomy magazine with an editor, please contact Matt Quandt at 262.798.6484 or mquandt@kalmbach.com

Mapping Mars
"Mars like you've never seen it" presents color images of nine martian regions as seen by the Mars Reconnaissance Orbiter's High Resolution Imaging Science Experiment (HiRISE). These stunning photos reveal complex surface textures and topographic variations that explain a lot about the planet's geologic history. HiRISE will continue to deliver its sharp images at the rate of about 10,000 images per martian year (about 2 Earth years).

Strange stars
So-called Mira stars are variable stars with long pulsation periods. In 1596, David Fabricus discovered the first star known to vary in brightness. He called it Mira, which means "wonderful" in Latin.

Fabricus initially thought the star was a nova because it faded gradually until it disappeared. But when it reappeared 12 years later, astronomers were able to deduce its 11-month cycle of variability. Today, astronomers have cataloged tens of thousands of variable stars. Robert Zimmerman's "What makes Mira tick?" details the peculiarities of these gigantic, pulsating stars.

GLIMPSE the naked galaxy
The Galactic Legacy Infrared Mid-Plane Survey Extraordinaire, or GLIMPSE, surveys the Milky Way in four infrared wavelengths. The GLIMPSE team focuses on the distribution of stars in our galaxy and the physics of star formation. "How astronomers glimpse the naked galaxy" includes a guide to understanding the components of the Milky Way, as well as a handy history of the Spitzer Space Telescope Legacy Programs.

Also in this issue:

"Explore winter's 12 best star clusters" – These must-see stellar treats look their best in winter's crisp, clean air.
"Big bang for your astronomy bucks" – Learn how a few dollars can add value to your observing kit.
"Simple steps to save the night sky" – Light pollution is a growing problem, but you can help curtail it.
"Get the most from CCD images" – CCD cameras are enabling amateurs to capture more detail than ever before.
The February 2007 Astronomy also includes Ask Astro, Astro news, Bob Berman's strange universe, Glenn Chaple's observing basics, Phil Harrington's binocular universe, The sky this month, New products, and Reader gallery.
More Astronomy resources:
Astronomy
news
This week's
sky events
Astronomy
basics
Glossary of
astronomical terms
Return to
Astronomy
"For the media" page
Astronomy's mission
Astronomy
promotes the science and hobby of astronomy through high-quality publications that engage, inform, entertain, and inspire.