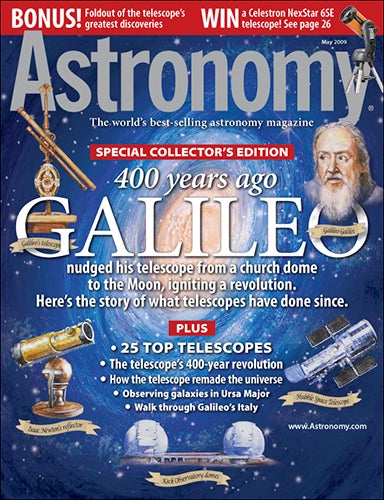 Additional coverage of Galileo's historic achievement

March 25, 2009
WAUKESHA, Wis. — Galileo Galilei launched a scientific revolution in 1609 when he first pointed his new telescope toward the heavens. In the 400 years since, astronomers have used this tool to solve the greatest cosmic mysteries.

Astronomy's May issue celebrates this astronomical tool and Galileo's discoveries in a special collector's edition. The magazine details the telescope's journey since its creation, takes a tour of Galileo's homeland, and reveals the telescopes greatest astronomical accomplishments in a stunning 8-page poster.

This special issue hits newsstands March 31.

The telescope's 400-year history
The May issue details the telescope's journey since its invention in 1608 in two sections — from Galileo to Newton and from Newton to Hubble.

In "How the telescope remade the universe," Contributing Editor Raymond Shubinski details the telescope's first 50 years. He tells of the invention's early days as a parlor toy and military aid, the first astronomical discoveries and the controversy they created, and the work done to expand the instrument's powers.

Associate Editor Liz Kruesi continues the story in "The telescope's 400-year revolution." In it, she explores how this crucial astronomical tool changed in size, material, and optics in 350 years as telescope-makers battled to make the best (and sometimes biggest) instruments ever designed.

"Experience Galileo's Italy"
Many people are familiar with the name Galileo, and some know of his impact on astronomy. But to really understand the man behind the telescope, one must walk in Galileo's footsteps. In "Experience Galileo's Italy," author William Sheehan does just that. Exploring the sites of Galileo's youth, scientific research, prosecution by the Catholic Church, and death, Sheehan brings the great astronomer's story to life.

POSTER: "Scoping out the great discoveries"
From Jupiter's moons to dark energy, astronomers have used the telescope to make some extraordinary discoveries. In "Scoping out the great discoveries," Senior Editor Richard Talcott presents an image-driven timeline exploring some of this invention's greatest achievements. Using modern images to represent historical events, the 8-page poster displays 400 years of discovery in a stunning package.

Also in the May 2009 Astronomy

"Explore the Great Bear's galaxies" — Break out your medium-sized telescope and search Ursa Major's extragalactic treasures.
"25 top telescopes for starry nights" — Contributing Editor Phil Harrington explores some of the best instruments on the market today.
"The Sky This Month" — Exclusive pullout star charts will guide you through May's night sky.
The May issue of Astronomy also includes Astro News, Astro Confidential, Telescope Insider, Bob Berman's Strange Universe, Glenn Chaple's Observing Basics, Phil Harrington's Binocular Universe, Stephen James O'Meara's Secret Sky, Ask Astro, New Products, and Reader Gallery.