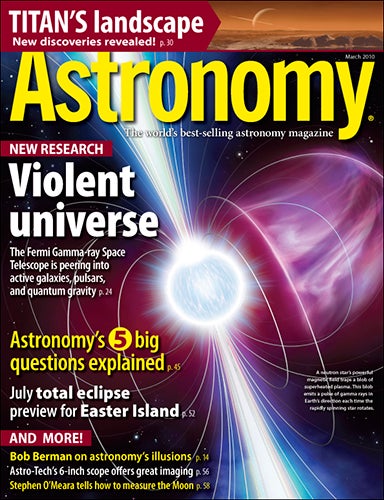 Editor David J. Eicher gives a video tour of the March 2010 issue
WAUKESHA, Wis. — Not all light is created equal. At its highest energies, in the form of gamma rays, it can reveal some of the most intimate secrets of the universe, from the composition of distant galaxies to the characteristics of ancient gamma-ray bursts. In fact, such light is so energetic that it would have left Earth scorched and lifeless, were it not for our atmosphere and its shielding effects.

Of course, this means it's hard for astronomers on the ground to pierce through the atmosphere when trying to observe and study these gamma rays. In "New visions reveal the violent universe," Francis Reddy details the history and prospects of the Fermi Gamma-ray Space Telescope, which bypasses the atmosphere all together.

"After a year and a half in space," Reddy writes, the telescope "has delivered the deepest, best-resolved, and most detailed view ever of the extreme universe." It studies pulsars, observes black holes, and even helps scientists weigh in on an elusive theory of quantum gravity.

Pick up the March issue of Astronomy, on newsstands February 2, to learn the details of Fermi's findings and see what lies ahead for the one-of-a-kind observatory.

"Astronomy's 5 big questions"
Join Editor David J. Eicher as he takes on 5 of the biggest mysteries in the universe, and the answers that science now offers. "The current mysteries of the universe follow a long pedigree of apparently unexplainable phenomena that skywatchers have pondered ever since they first looked up," he writes. Whether writing about the size of the universe or the nature of dark matter, Eicher's explanations clearly explain the science behind, without diminishing the wonder of, the night skies.

"Astro-Tech's AT6RC offers great imaging on a budget"
Amateur astronomers have been slow to pick up on Ritchey-Chretien (RC) reflectors because of their high price, even though their unique design produces crisp, problem-free images. In "Astro-Tech's AT6RC offers great imaging on a budget," Contributing Editor Phil Harrington describes how Astronomy Technologies has produced RC optics in an affordable package.

Also in the March 2010 Astronomy

"What we've learned about a strange new world" — Cassini's 5-year exploration has revealed the saturnian moon's atmosphere, mountains, dunes, rivers, lakes, and seas.
"Totality crosses Easter Island" — Here's all you need to know if you're planning to witness July's solar eclipse.
"The Sky This Month" — Exclusive pullout star charts will guide you through March's night sky.
The March issue of Astronomy also includes Astro News, Beautiful Universe, Bob Berman's Strange Universe, Glenn Chaple's Observing Basics, David Levy's Evening Stars, Stephen James O'Meara's Secret Sky, Ask Astro, Astro Confidential, Deep-sky Showcase, Telescope Insider, New Products, The Cosmic Grid, and Reader Gallery.