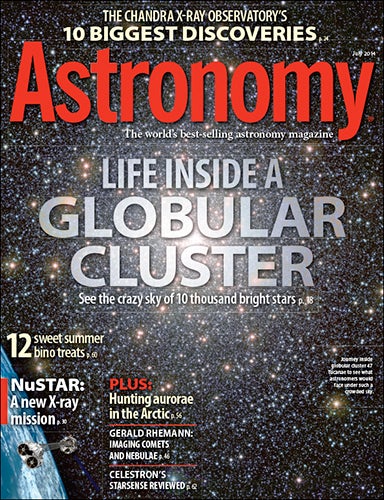 About Astronomy magazine:
Astronomy
offers you the most exciting, visually stunning, thorough, and timely coverage of the heavens above. Each monthly issue includes expert science reporting, vivid color photography, complete sky-event coverage, spot-on observing tips, informative equipment reviews, and more. All of this comes in an easy-to-understand user-friendly style that's perfect for astronomers at any level. Contact
Astronomy
, the world's best-selling astronomy magazine, at 262.796.8776 or email
editor@astronomy.com
.
WAUKESHA, Wis. – Imagine a night sky that has thousands of stars as bright as Sirius. That sky could exist – if Earth were inside a globular cluster. These roughly spherical star clusters have hundreds of thousands of tightly packed stars. Astronomers William Harris and Jeremy Webb wanted to know what life – and astronomy – would be like inside one of these densely populated regions. So they did what any good astronomers do: They made a simulation.

By creating a simulated Earth-like planet and placing it inside a simulated globular cluster that resembles the real 47 Tucanae, they were able to make a virtual-reality world and investigate the view from the ground up. In "Life inside a globular cluster," these two researchers show stunning shots of the simulated sky and discuss the ways astronomical study would be different and difficult. And despite the picturesque celestial sphere, everyday life on this imagined planet could be dangerous, with chance gravitational encounters and X-ray flares a constant possibility.

To find out more about what a sky filled with 10,000 bright stars would mean for science and existence, pick up the July issue of Astronomy, on newsstands June 3.

"Chandra's 10 biggest discoveries"
Have you ever seen galaxy clusters collide or a supermassive black hole flare? No? Well, the Chandra X-ray Observatory has. In "Chandra's 10 biggest discoveries," Associate Editor Liz Kruesi gives the run-down of the 15-year-old telescope's most cosmos-shaking observations of the high-energy universe.


"The universe in X-rays"
The Nuclear Spectroscopic Telescope Array (NuSTAR) has been in orbit since 2012, collecting high-energy X-rays from exotic objects like intermediate-mass black holes and blazars. In "The universe in X-rays," Senior Editor Michael Bakich tells NuSTAR's whole story, from its development to its most important discoveries of the extreme universe.

"Gerald Rhemann: Imaging from near and far"
Gerald Rhemann was first inspired by images of Halley's Comet, and he's gone on to capture plenty of comet shots of his own. Since his initial telescope purchase in 1989, he's acquired quite a few more and planted them at various spots on the globe, allowing him to image nearly any comet, nebula, or galaxy he likes. In "Imaging from near and far," he tells the story of this evolution.

July sky events visible without optical aid

July 2 – Venus passes 4° north of Aldebaran.
July 5 – The Moon passes 0.2° north of Mars.
July 7 – The Moon passes 0.4° south of Saturn.
July 12 – Mars passes 1.4° north of Spica.
July 24 – The Moon passes 4° south of Venus.
July 30 – The Southern Delta Aquariid meteor shower peaks.

Also in the July 2014 Astronomy

"Enhance your observing with filters" – Senior Editor Michael Bakich ups your game with this how-to about which filters bring out which features. From brightness-blocking ones to ones that show the emission of specific molecules, these filters can bring out aspects of the sky you didn't know existed.
"Hunting aurorae in the Arctic" – In 2013, Production Editor Karri Ferron and Associate Editor Liz Kruesi both had the opportunity to take in all aspects of the extreme Northern Hemisphere – including its famed northern lights. Follow their journeys across land, sea, and sky.
"12 sweet summer bino treats" – Phil Harrington penned this guide to the warm months' best binocular views, from double stars to asterisms to star clusters. No telescopes required.
"Astronomy tests Celestron's StarSense" – Phil Harrington mounts the StarSense on his old go-to telescope to check out its autoalign functionality. With this handy tool, observers avoid having to initialize their systems and can get straight to staring at the sky.
"The Sky this Month" – Exclusive star charts will guide you through July's night sky.
The July issue of Astronomy also includes Astro News, Ask Astro, Snapshot, Breakthrough, Bob Berman's Strange Universe, Stephen James O'Meara's Secret Sky, Glenn Chaple's Observing Basics, Adam Block's Cosmic Imaging, Erika Rix's Astro Sketching, Cosmic World, Letters, Web Talk, New Products, Reader Gallery, and Final Frontier.