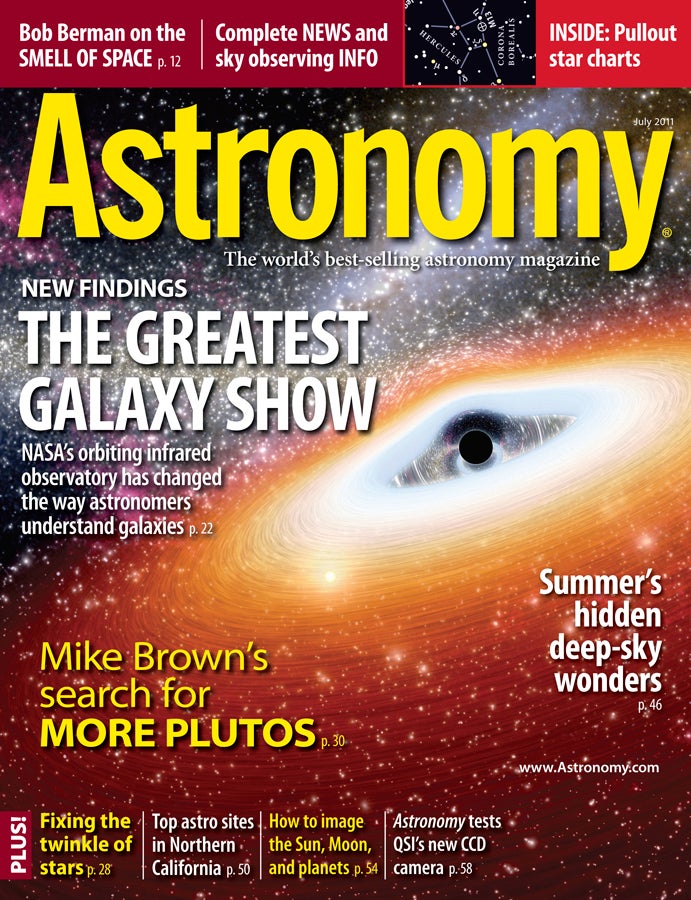 WAUKESHA, Wis. — Despite only 6 years of "life," NASA's orbiting Spitzer Space Telescope unveiled galactic surprises throughout the universe. Much of our current understanding of galaxies and their dynamics owes much to this observatory, and it's still operational, exceeding its lifespan by 2 years and counting!In "Spitzer's galaxy show," astronomer Robert Benjamin details the satellite's purpose, operation, and most important galactic results — all achieved while fighting the clock. "The Spitzer Space Telescope's race against time was to observe as much as it could before the liquid helium [that powered it] ran out on May 15, 2009," Benjamin writes. Not to mention, of course, that it produced some fantastic images as well.Spitzer, like its older brother the Hubble Space Telescope, is one of NASA's four Great Observatories, each designed to see in a different spectrum. "Spitzer's forte is the infrared," Benjamin writes, an essential part of modern astronomy. From the nearby galactic "neighbors" to more distant galaxies to some of the most violent and ancient sights the cosmos has to offer, Spitzer could see it all with its infrared eyes, and astronomers couldn't get enough. As Benjamin simply puts it, "As you might expect, there have been some surprises."Pick up the July issue of Astronomy, on newsstands May 31, to learn more about Spitzer's surprises, confirmations, and everything in between.

"The search for more Plutos"
When Caltech astronomer Mike Brown discovered a planet-sized body beyond Pluto's orbit in 2005, it shook planetary science to the core. The fallout included a new definition for the word planet, and the demotion of Pluto to dwarf planet status. "But Brown's not sorry," writes Dean Regas in "The search for more Plutos." Brown discovered more than 70 objects beyond Neptune in the northern sky, and he now leads a similar search of the southern sky. Learn more about this search, its history, and why it matters as Regas takes readers on a journey from exotic Chile to chilly Eris, and beyond.
"Shoot the Sun, Moon, and planets"
The planets symbolize astronomy in a special way, and Michael Covington devotes the fifth and final installment of his imaging series to capturing them on film in "Shoot the Sun, Moon, and planets." From the surprisingly simple cameras to the free image processing software, photographing some of the solar system's most famous objects has never been easier.
"Astronomy tests QSI's 583 CCD camera"
In "Astronomy tests QSI's 583 camera," longtime contributor and astrophotographer Bob Fera heartily recommends a new compact CCD camera from relative newcomer Quantum Scientific Imaging. The variety of features, helpful technical support, and all-around quality helped make the 583 series "a great choice" for anyone interested in capturing the skies.

Also in the July 2011 Astronomy
"Illustrated: Fixing the twinkle of stars" — Adaptive optics helps ground-based telescopes take crystal-clear images. Here's how it works.
"Discover summer's hidden deep-sky wonders" — This select group of 10 summer gems boasts everything from colorful nebulae to ultra-faint galaxies.
"Visit Northern California's top astronomy sites" — From mountaintop observatories exploring the distant cosmos to long tunnels probing matter's heart, Northern California has sites for any astronomy buff.
"The Sky this Month" — Exclusive pullout star charts will guide you through July's night sky.
The July issue of Astronomy also includes Astro News, Bob Berman's Strange Universe, Glenn Chaple's Observing Basics, David H. Levy's Evening Stars, Stephen James O'Meara's Secret Sky, Tony Hallas' Imaging the Cosmos, Ask Astro, Beautiful Universe, Deep-sky Showcase, New Products, Reader Gallery, and The Cosmic Grid.