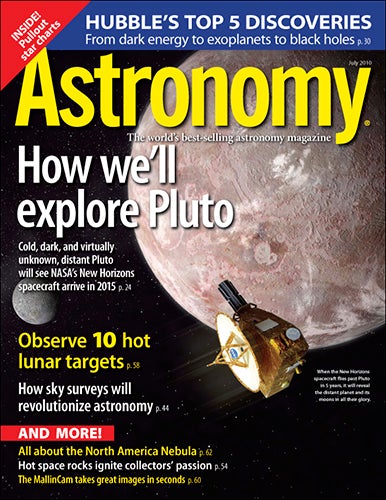 Editor David J. Eicher gives a video tour of the July 2010 issue
Waukesha, Wis. — In January 2006, NASA launched the New Horizons probe to explore Pluto, its moon Charon, and possibly one or two other Kuiper Belt objects. The spacecraft's roughly 10-year journey will reach its culmination in mid-2015, as it skims 6,200 miles (10,000 kilometers) from Pluto's center.

In "How we'll explore Pluto," Senior Editor Richard Talcott describes the New Horizons mission, from its history to its first 5 years and the planned Pluto flyby. He details the entire 9-month encounter and what specific instruments will do at certain points in the voyage. Talcott writes, "The delicate trade-offs between the different instruments demand precise planning so that New Horizons can meet all the mission objectives. … During the encounter, New Horizons' cameras should deliver incredible detail."

For a complete look at the New Horizons mission, pick up the July issue of Astronomy, on newsstands June 1.

"How sky surveys will revolutionize astronomy"
The next few years will see two wide-field sky surveys cam online that will capture huge portions of the night sky within just a few days. Then, by repeatedly surveying the same regions of the sky, these instruments will be able to detect changes and therefore discover asteroids, supernovae, Kuiper Belt objects, and more. In "How sky surveys will revolutionize astronomy," Associate Editor Liz Kruesi describes these two upcoming surveys and where they'll take astronomy in the next decade.

"Hot rocks ignite collectors' passion"
Editor David J. Eicher describes his recent visit to the Tucson Gem and Mineral Show in "Hot rocks ignite collectors' passion." During this annual event, hundreds of meteorite dealers display — and sell — different kinds of meteorites. Eicher describes famous finds and famous players in the hobby. It's a great guide for any meteorite collector.

July night-sky events visible without optical aid
All month: Venus, Mars, and Saturn line up in the west-southwest sky during most of the month. The joins them midmonth, and Mars lies close toward the end of the month.
July 11: the Moon passes in front of the Sun to create a total solar eclipse, visible from a thin strip in the southern hemisphere.

Also in the July 2010 Astronomy

"Hubble's top 5 science discoveries" — From dark energy to exoplanets to black holes, the Hubble Space Telescope helps astronomers understand some of the biggest mysteries of the universe.
"A famous telescope turns 40" — Bart Bok was a proponent of educating students about astronomy. He'd be happy to know that the telescope that bears his name is now used for both research and education.
"Observe 10 hot lunar targets" — The Moon's ever-changing face offers something for every amateur astronomer.
"The MallinCam takes great images in seconds" — Whether you photograph the sky or show live images to a group, this video camera delivers the goods.
"All about the North America Nebula" — Scan this giant nebula through binoculars or a telescope, and you'll find more than just dazzling beauty.
"The Sky this Month" — Exclusive pullout star charts will guide you through the night sky.
The July issue of Astronomy also includes Astro News, Bob Berman's Strange Universe, Glenn Chaple's Observing Basics, David Levy's Evening Stars, Stephen James O'Meara's Secret Sky, Ask Astro, Deep-sky Showcase, New Products, Letters, and Reader Gallery.