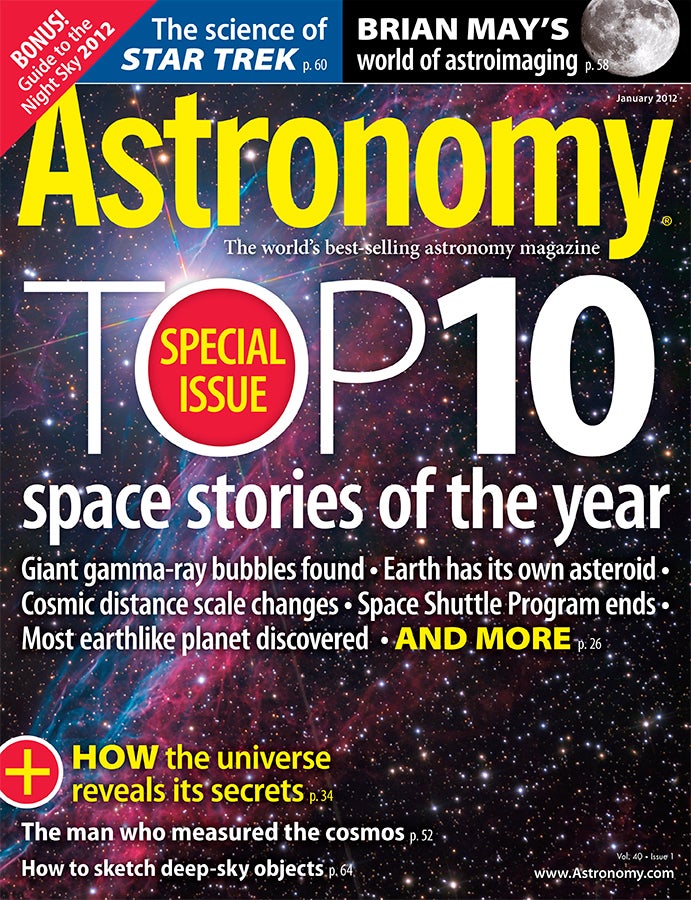 Waukesha, Wis. — In 2011, planetary scientists found an asteroid in Earth's orbit, uncovered the strongest evidence of flowing water on the surface of Mars, and discovered some of the most earthlike planets yet detected. Also in the past year, astronomers exposed another class of exploding stars and found giant gamma-ray structures emanating from the Milky Way Galaxy. It was a great year for space science discoveries — but what was the biggest story of the year?Astronomy's editors ranked the most important stories of the past 12 months, and Associate Editor Liz Kruesi highlights those discoveries in "Top 10 space stories of 2011."Read the countdown in the January 2012 issue of Astronomy magazine, on newsstands December 6.
"How the universe reveals its secrets"
Chemistry is at work all around us — on Earth and in the distant cosmos. In "How the universe reveals its secrets," Associate Editor Bill Andrews describes how astronomers use this branch of science to explore the properties of matter and the interplay between various substances. Throughout the article, Andrews explains how "chemistry is more than just a high school lab class."
"The science of Star Trek"
The futuristic technology in the Star Trek series is closer than you might think. Read how our descendants might use a transporter device to transmit and reassemble a person almost instantly, or how a bubble surrounding a spacecraft could move it at a speed faster than light. Ayla Besemer takes you on a foray into these exciting possibilities and more in "The science of Star Trek."
"How to sketch deep-sky objects"
Drawing what you see at the telescope can help you observe finer detail in deep-sky objects and can make your observing sessions more useful. Learn techniques for sketching galaxies, star clusters, and nebulae from an amateur astronomer who has perfected the method, and see examples of his work. In "How to sketch deep-sky objects," Brandon Doyle also offers advice about the best way to add color to your drawings.
January night-sky events visible without optical aid
January 2 — The Moon lies 5° north of Jupiter.
January 4 — The Quadrantid meteor shower peaks in the early morning hours.
January 14 — The Moon lies 9° south Mars.
January 26 — The Moon lies 7° north of the brilliant planet Venus.
Also in the January 2012 Astronomy
"Astronomy's 2012 Guide to the Night Sky" — This handy four-page insert will keep you looking up all year.
"The man who measured the cosmos" — Milton Humason went from janitor on Mount Wilson to world-famous astronomer.
"Brian May's world of stereo astro pictures" — One of the world's great rock stars has a passion for astronomy — and for sharing space in 3-D.
"Astronomy tests Stellarvue's 4-inch APO refractor" — The new SV105–3SV imaging scope boasts high-quality construction, superb optics, and an oversized focuser.
"The Sky this Month" — Exclusive pullout star charts will guide you through the night sky.
The January issue of Astronomy also includes Astro News, Bob Berman's Strange Universe, Glenn Chaple's Observing Basics, Stephen James O'Meara's Secret Sky, David Levy's Evening Stars, Tony Hallas' Imaging the Cosmos, The Cosmic Grid, Deep-sky Showcase, New Products, Letters, Web Talk, and Reader Gallery