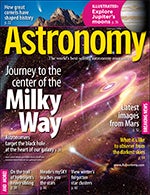 WAUKESHA, WI — Astronomers know the Milky Way Galaxy's core is anchored by a large black hole. But they struggle to understand where the fast-moving stars that surround it come from. What is at the galaxy's core that can accelerate these stars to such great speeds?

This month's cover story, John Dvorak's "Journey to the Milky Way," explores our galaxy's black hole in search of an explanation for these speedy stars. Smaller than the standard of what lies in other galaxies, our black hole is near enough to study in detail and continues to present many surprises to astronomers.

Dvorak operates a telescope atop Mauna Kea Volcano for the Institute for Astronomy at the University of Hawaii.

With the latest images and breaking news, Astronomy's February 2008 issue brings black holes, galaxies, and other celestial objects out of space and onto newsstands.

History and comets
In ancient skies, a comet's sudden appearance provided both spectacle and portent — and savvy leaders took advantage. "How comets shaped history" defines what makes a great comet and details how people throughout time have interpreted these "dirty snowballs."

Dusty Mars
New results from Mars Reconnaissance Orbiter (MRO) suggest the Red Planet's past may not have been as warm and wet as once suspected. "Where has all the water gone?" by Astronomy Senior Editor Richard Talcott discusses the possibility of water rising to the dusty martian surface and includes the latest MRO images.

Jupiter's moons
Thin dust rings, bright gas clouds, and a ring of plasma arise from Jupiter's closest and largest moons — Io, Europa, Ganymede, and Callisto. Astronomy Senior Editor Francis Reddy goes deep inside Jupiter's moons with the illustrated spread "Explore Jupiter's moons."

Hydrogen's sibling
Twice as large as ordinary hydrogen, deuterium serves as a guide to the beginning of both the density of matter in the early cosmos and the chemical evolution of the Milky Way. In "On the trail of hydrogen's heavy sibling," Bruce Dorminey describes the role deuterium plays in scientists' attempts to understand the early universe, galactic evolution, and life's extent.

Also in this issue:

"The darkest sky under the stars" — Imagine what it's like observing a sky completely void of light pollution.
"Meade's mySKY teaches you the stars" — Amateur astronomers take note: Now you can identify celestial objects like a pro.
"Observe winter's forgotten star clusters" — Begin your observing year with 16 bright, but little-known, open clusters.
The February issue of Astronomy also includes Ask Astro, Astro news, Bob Berman's strange universe, Glenn Chaple's observing basics, Phil Harrington's binocular universe, Stephen James O'Meara's secret sky, The sky this month, New products, and Reader gallery.
More resources from Astronomy.com:

Astronomy's mission:
Astronomy promotes the science and hobby of astronomy through high-quality publications that engage, inform, entertain, and inspire.