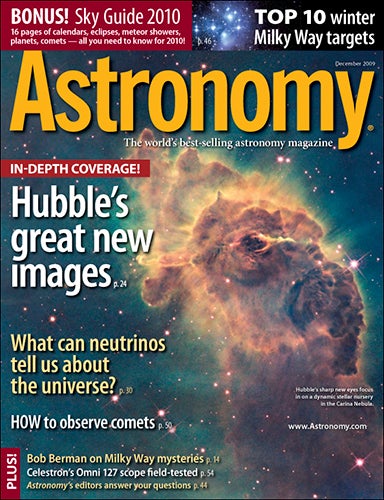 WAUKESHA, Wis. — In May, astronauts installed two new instruments, repaired two others, and replaced the six gyroscopes on the Hubble Space Telescope. In September, scientists released images and data from the upgraded Hubble, proving the repair mission a resounding success.

Senior Editor Richard Talcott describes Hubble's new instruments, shows off the first stunning images, provides an in-depth explanation of what the images and data show, and previews what's to come. Talcott writes, "Among the first observations scheduled is another Hubble Ultra Deep Field. … Some researchers expect it to turn up galaxies within 500 million years of the Big Bang."

For a complete look at the refurbished telescope, pick up the December issue of Astronomy, on newsstands now.

"What can neutrinos tell us about the universe?"
The elusive neutrino is a type of particle that has no electric charge and virtually no mass, and interacts weakly with matter. Frequent contributor James Trefil and his wife Wanda O'Brien-Trefil write how scientists first discovered neutrinos, what these particles can tell us about the universe, and how to detect the elusive particles.

"Astronomy magazine's Sky Guide 2010″
Martin Ratcliffe and Richard Talcott preview 2010's most noteworthy sky events in this 16-page pullout guide.

Sky highlights for 2010 include:

Vesta reaches a dramatic peak — The asteroid brightens to magnitude 6.1, making it visible to the naked eye from a dark site, and an easy target through binoculars.
A year of flashing meteors — In a year expected to have great meteor showers, the April Lyrids and the August Perseids might be the best.
Watch the Moon fade away — Not since February 21, 2008, have we seen a total lunar eclipse; December 2010 will change that.

December 2009 night-sky events visible without optical aid:

December 6 — The Moon passes 6° south of Mars.
December 14 — The Geminid meteor shower peaks.

Also in the December 2009 Astronomy:

"Top 10 winter Milky Way treats" — These must-see star clusters and nebulae look their best in this season's crisp air.
"How to observe comets" — Nothing thrills skywatchers like a new comet, especially if it's bright. Follow these tips to be ready for the next one.
"The Sky this Month" — Exclusive pullout star charts will guide you through the night sky.
The December issue of Astronomy also includes Astro News, Beautiful Universe, Bob Berman's Strange Universe, Glenn Chaple's Observing Basics, David Levy's Evening Stars, Stephen James O'Meara's Secret Sky, Ask Astro, Astro Confidential, Deep-sky Showcase, Telescope Insider, New Products, and Reader Gallery.