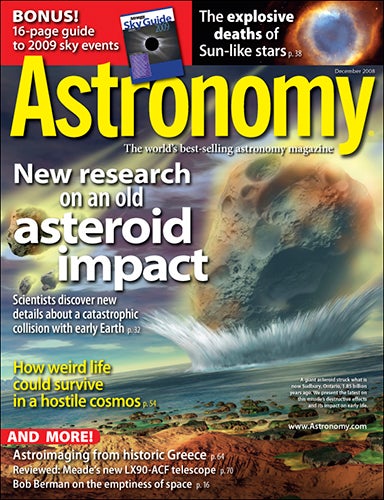 More resources from Astronomy.com:

Astronomy's mission:
Astronomy promotes the science and hobby of astronomy through high-quality publications that engage, inform, entertain, and inspire. WAUKESHA, Wis. — Sudbury Basin, in what is today Sudbury, Ontario, was created 1.8 billion years ago when a giant meteorite struck Earth. What does this event tell us about early Earth? Did the impact cause ecological disruption and mass extinction?

In "Scientists unearth ancient impact's secrets," author Mark Jirsa, a geologist with the Minnesota Geological Survey in St. Paul, examines these questions and looks at the new research on Sudbury Basin.

"The Sudbury impact was such a massively energetic event," writes Jirsa, "one cannot help but wonder about its global ramifications. … Who knows what more these rocks have to teach us?"

Read all about the Sudbury impact and more in the December 2008 issue of Astronomy magazine, on newsstands October 28.

Astronomy's December issue also includes a 16-page pullout guide to 2009 sky events. "Astronomy's Sky Guide 2009," by Martin Ratcliffe and Richard Talcott highlights the most observable sky events in each month for 2009. Sky highlights for next year include:
Saturn hides its rings — The giant planet's famous features turn edge-on to earthbound observers.
Total Solar Eclipse — The longest total eclipse of the Sun in nearly 2 decades occurs July 22 when it blazes a path over India and China.
Leonid meteor shower — In a year expected to have great meteor showers, the Leonids might be the best.

"How life could thrive on hostile worlds"
There are extreme organisms living on Earth that can survive in environments with high pressure, low temperatures, minimal water, and high acidity. These "extremophiles" show us just how weird life on other planets could be. "How life could thrive on hostile worlds," by Chris Impey, discusses what these organisms are telling us about the potential for life on other planets. Impey is a University Distinguished Professor at the University of Arizona's Steward Observatory.

"Astroimaging over ancient Greece"
Anthony Ayiomamitis, a Mediterranean astrophotographer, captures celestial portraits with ancient ruins. In "Astroimaging over ancient Greece," Ayiomamitis describes how he images the sky and includes a gallery of his spectacular images.

December night-sky events visible without optical aid

December 1 — The Moon joins Venus and Jupiter in the night sky.
December 22 — The Ursid meteor shower peaks.
December 29 — Mercury joins Venus in a planetary conjunction.

Also in the December 2008 Astronomy

"How the Sun will die" — When Sun-like stars exhaust their fuel, they cast off shells of gas, creating colorful fireworks.
"Meade's LX90-ACF eliminates coma" — High portability, easy setup, and high-quality optics make this scope a winner.
"The Sky this month" — Exclusive pullout star charts will guide you through December's night sky.
The December issue of Astronomy also includes Astro news, Bob Berman's Strange universe, Glenn Chaple's Observing basics, Phil Harrington's Binocular universe, Stephen James O'Meara's Secret sky, New products, and Reader gallery.