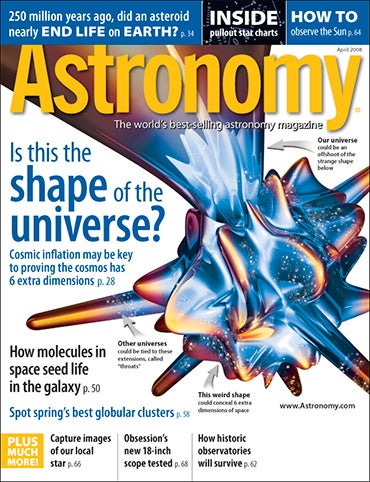 Astronomy's mission:
Astronomy promotes the science and hobby of astronomy through high-quality publications that engage, inform, entertain, and inspire. More resources from Astronomy.com:

WAUKESHA, WI — Inflation, the early universe's short period of hyper-expansion, may provide the evidence needed to prove what our universe looks like.

Steve Nadis' "Searching for the shape of our universe" explains how inflation shows that our universe may have six extra dimensions. The latest research suggests that each three-dimensional point in our universe contains six additional, compact dimensions.

"Theorists are keenly interested in the shape of these complex, six-dimensional spaces," writes Nadis. Learn all about our universe's possible 10 dimensions in the April 2008 issue of Astronomy, on newsstands March 4.

Before the dinosaurs
Everyone is familiar with the asteroid that terminated the dinosaurs 65 million years ago, but a deadlier asteroid struck our planet 250 million years ago. Joel Davis talks about the rock from outer space that possibly contributed to the greatest evolutionary shift in Earth's history in "185 million years before the dinosaurs' demise, did an asteroid nearly end life on Earth?"

Between the stars
Astronomers have detected more than 150 different molecules in interstellar space. Now, the question is, do those molecules jump-start life? In "Did molecules from space seed life in the cosmos?" Bruce Dorminey examines the building blocks of life found in outer space.

Deep-sky observing
Spring's warmer weather presents an excellent opportunity to observe the night sky. "Spot spring's 11 best globular clusters" by Steve Coe offers diverse observing targets for amateur and professional observers alike.

Also in this issue

"How to observe the Sun" — With a good filter, you can see sunspots, flares, and other hot stuff.
"Obsession's new 18-inch scope" — Learn about this complex and portable telescope.
"How historic observatories will survive" — Light pollution and technological advances have forced many observatories to redefine their roles.
"The sky this month" — Exclusive pullout star charts guide you through April's night sky.
The April issue of Astronomy also includes Ask Astro, Astro news, Bob Berman's strange universe, Glenn Chaple's observing basics, Phil Harrington's binocular universe, Stephen James O'Meara's secret sky, New products, and Reader gallery.