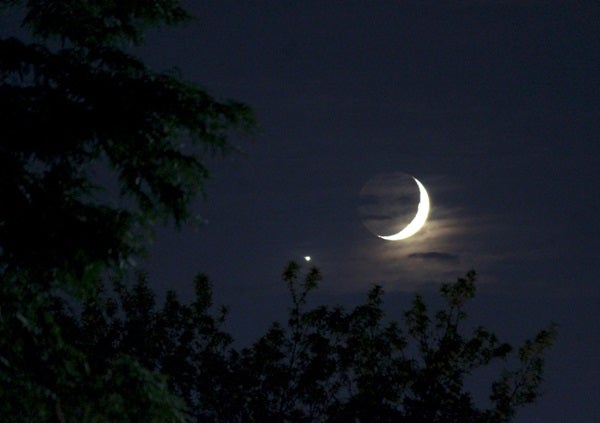 Hi folks, tune in every week of 2023 for the best in astronomy from Astronomy Editor Dave Eicher, brought to you by Celestron. This week, a slender crescent Moon slides right past Venus.
Both of these objects are bright enough to spot without optical aid. To see them, all you need to do to see it is to go outside right after dusk on Sunday evening (April 23) and look low near the western horizon.
First, you'll likely spot the beautiful crescent-shaped Moon, which will be only 16 percent illuminated. A bright Venus will be visible hovering nearby.
At their closest approach, the Moon and Venus will sit just 1.3° apart from one another. But in reality, they are currently about 95 million miles (150 million kilometers) apart. So this apparition also serves as a great exercise in 3D depth of field.
After tracking down the pair with your eyes, grab your binoculars or your telescope, head to a dark-sky site outside the city, and get an up-close-and-personal view of the solar system in motion.
To learn more about what's coming up in the sky each week, be sure to check out The Sky This Week, published at Astronomy.com every Friday morning: https://astronomy.com/observing/sky-this-week
Follow Astronomy magazine, the world's best-selling astronomy magazine:
???? Website: https://astronomy.com
???? Subscribe: http://subscribe.astronomy.com
???? Facebook: https://www.facebook.com/AstronomyMagazine
???? Instagram: https://instagram.com/astronomy.magazine
???? Twitter: https://twitter.com/AstronomyMag
Shop Celestron telescopes:
???? Website: https://celestron.com
Follow Dave Eicher:
???? Facebook: https://www.facebook.com/davidjohneicher/
???? Instagram: https://instagram.com/eicher.david
???? Twitter: https://twitter.com/deicherstar